Big Google Data & Analytics: Big Money and Big Privacy Debate
By Jerzy Surma, Feb 28, 2012
In light of their new privacy policy, Google will be able to revolutionize its services for marketers. This Privacy Policy will be effective March 1, 2012 and allow Google to integrate data it collects about each user of its various websites and services into a single profile. This issue was initially addressed by Google on August 8, 2008, in response to a congressional letter regarding online advertising; at the time, they denied any commercial use of user data. Now after almost 4 years, Google has decided to do officially what business intelligence specialists have been expecting for years.
This new privacy policy is one of many that will deeply touch privacy issues – see the Forbes article on Target. We can expect this kind of outcry to continue if not addressed proactively by the industry. And this is not only the question of storing day by day, probably forever, our personal data. The real challenge is to clarify who should be an owner of this data. Starting on March 1, 2012, the public really no longer gets to use Google services for free, they are paying by giving access to their personal data. Personal data will become the real currency of the digital economy.
That said, as one involved in this conversation from the perspective of potential for analytics, we look at ways to leverage this new data. It will be important for advertisers to adjust their marketing message to match the targeted user's profile, as the collection of information about clients will enable them to profile clients very precisely. If Google users use the search engine, YouTube, blogs, Google Docs etc, it will be possible to determine their interests, views, opinions, career profile, and so on. Their social groups and the nature of those personal contacts, business contacts, interests etc, can be determined when they make use of discussion groups, e-mail, or calendars. Consequently, it is highly probable that marketing analysts will be able to determine age, sex, education, occupation, place of residence, and income. User activities can be monitored and their data will be integrated in the data warehouse. The history of behavior is retained and a user's profile can be discovered. It's worth remembering that the cross- and up-sell proposals for a given target group can make use of data-mining methods.
With these new possibilities arising from their policy change, at this time it appears that Google will be a perfect example of a company that's competing on Big Data and analytics in the near future.
About the author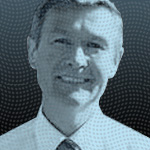 Jerzy Surma is an assistant professor at Warsaw School of Economics and a director of postgraduate studies on business intelligence. His current research is focused on applying data/reality and social networks mining techniques for business applications. Jerzy's interests and expertise include customer intelligence, the impact of ITC on contemporary business and network effects. He is a member of the Association for Information Systems and International Network of Social Network Analysis. Jerzy is a visiting professor with the University of Amsterdam in Holland, the University of Hasselt in Belgium, IFP – Rueil Malmaison in France, Romeris University in Lituania and the Harvard Business School in the U.S.
---
Tags