Joy King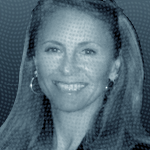 Joy King is Principal Consultant and Practice Lead for Life Sciences Consulting at Teradata, the world leader in analytical data warehousing. She consults with customers and prospects to evaluate, position and develop deployment strategies for Teradata solutions within their organizations. Joy is responsible for providing life sciences subject matter expertise in developing and executing the life sciences strategies for Teradata. She also supports public speaking engagements, events and industry press relations.
Joy has spent over 25 years in information technology. She worked at GlaxoSmithKline from 1992 to 2002. During that time, she held positions of increasing responsibility within the R&D and Commercial Operations IT divisions. As director of IT Sales and Marketing Client Services, Joy held a recurring $5 million departmental budget as well as a $68 million dollar SFA project budget. She led a 60-person Client Services organization of business and IT professionals providing project prioritization and management, standard, customized and ad hoc information analysis services, and technology training to the sales and marketing home office and field sales organizations. She also served as technology advisor to the sales and marketing executive team.
Joy holds a Bachelors Degree in Computer Information Systems. She is a seasoned IT professional rising through the ranks as programmer, system analyst and data modeler to management levels. Joy is a Teradata Certified Professional and a certified Contextual Inquiry Coach. She is a member of industry standard setting bodies such as CDISC and HL7 as well as industry organizations such as the Drug Information Association and Healthcare Businesswoman's Association. Joy continues to pursue her passion of liaising between technologists and the business communities to help Life Sciences companies fully leverage their data assets and maximize the business value they receive from their investments.