Mark Molau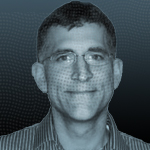 Mark Molau is currently the Director of Analytics and Business Intelligence at XPO Logistics, where he leads a diverse team of strategy, data science, and data platform development professionals building high business impact supply chain analytics solutions and tools.
Mark's passion is the application of analytics to drive business change through the combination of re-engineering and data to identify and execute key initiatives that directly impact top-line business growth and bottom-line profit. He most enjoys blending business and technology roles to lead and engage both organizations to deliver value together over time.
With over 20 years' experience, Mark has driven large analytics programs engaging executives, senior leaders and information consumers alike across business functions that include sales, marketing, customer service, engineering, manufacturing, supply chain, and finance. He has led the technical development of numerous analytics and business intelligence capabilities across the solution life cycle that incorporates all relevant technologies for data visualization, modeling, acquisition, integration and storage across a variety of solution vendors. Critical project delivery includes agile and iterative development methodologies to drive business user and executive engagement.
Mark has held global senior leadership roles driving change in large companies such as Hewlett Packard and XPO Logistics as well as consulting roles with clients in a diverse range of industries that includes high tech, manufacturing, logistics and supply chain management, publishing and government.