2016 Analytics Predictions & Priorities
The demand for analytics has never been greater, creating more opportunities but also more time constraints on analytics professionals. With rapid advances in technology and applied uses for analytics, knowing where to devote time, and what trends to pay attention to, has never been more important.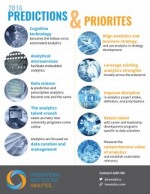 This report summarizes our 2016 Analytics Predictions and Priorities, announced on Dec. 10, 2015 in a webinar featuring IIA Co-Founder Thomas H. Davenport, IIA VP and Research Director Daniel Magestro, and IIA Lead Faculty Member Robert Morison. Read this report to gain their insight into where you should focus your time, attention and resources in the coming year.
"In today's increasingly data driven economy, IIA's mission is to guide business leaders toward success in all facets of analytics. By emphasizing priorities alongside predictions, we want to give companies a view of both the latest trends and pressing issues they can expect to face in 2016," said Magestro.
These predictions and priorities were developed after gathered feedback from more than 200 analytics executives and IIA's expansive network of analytics experts.
Get Your Copy of our 2016 Analytics Priorities and Predictions.
---