2017 Predictions and Priorities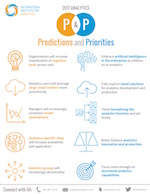 As business analytics continues to gain momentum and increase its impact on organizations, the challenges facing analytics leaders continue to evolve. While the need to establish credibility and build new data analytics teams dominated agendas just a few years ago, many organizations now focus on expanding capacity, operating more efficiently and measuring the return on analytics investment. With continuous, rapid advances in technology and automation, knowing which trends to pay attention to is more important than ever.
With that in mind, the International Institute for Analytics published its annual report of top predictions and priorities for 2017. Each year, IIA shares its perspective on the year ahead in the world of analytics, presenting viewpoints from leading analytics practitioners, executives and thought leaders. This year IIA gathered feedback from more than 200 analytics executives and our broad network of unbiased analytics experts.
Learn about the major trends and pressing priorities analytics professionals should pay attention to in 2017.
Get Your Copy of our 2017 Analytics Predictions and Priorities.
---
Accelerate your organization's journey to analytics maturity
Get the data sheet to learn how the Research & Advisory Network advances analytics capabilities and improves performance.