Advanced Analytics & Big Data Adoption Report 2016
The continued growth of analytics across industries and business functions is undeniable, and the pace is rapid enough to observe even in a year-over-year analysis.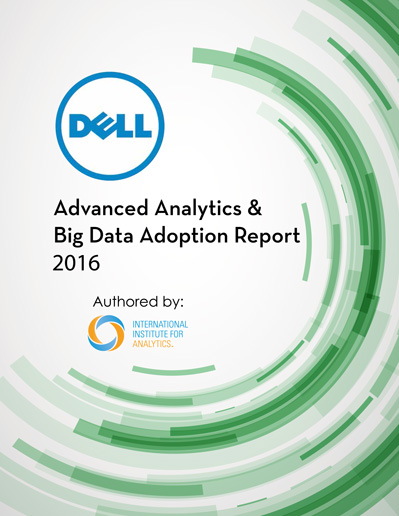 This report, advancing our 2014 research, assesses the maturity of both midmarket and large enterprises in implementing analytics solutions. The intent of the assessment is partly to confirm what we at the International Institute for Analytics know firsthand: the role that analytics and Big Data play in enterprise operations, business processes, and decision-making is expanding at an impressive pace.
Specifically, this report sought to determine the current state of advanced analytics in terms of attitudes and investment, how attitudes and investment translate into analytical maturity, and how Big Data factors into analytics programs.
Among Our Findings:
Organizational maturity with analytics is correlated with having senior-level executives involved in developing their analytics program.
Organizations with a high degree of perceived analytical maturity are more likely to have the involvement of a Chief Information Officer, a Chief Data Officer, or a Chief Analytics Officer.
Compared to 2014, business decision makers are more likely to agree that they could gain a competitive advantage using advanced analytics.
Similarly, a considerably higher number of executives strongly believe that advanced analytics plays a critical role in their operations in 2015, highlighting the increasing adoption and tangible business benefits that have been realized through analytics.
Download your copy of our free report now
---