Executive Summary: CAO, CDO or Both?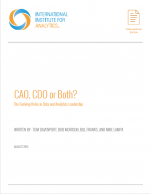 As firms devote more and more resources to their data and analytics programs, IIA has been tracking the evolution of leadership roles that will be required – Chief Analytics Officer (CAO), Chief Data Officer (CDO), and other permutations of these positions. For this Research Brief, we interviewed 20 executives holding the title of CAO or CDO (or equivalent).
This report, "CAO, CDO or Both? The Evolving Roles in Data and Analytics Leadership" set out to take a snapshot of contemporary experiences for these data and analytics leadership roles, and how they are playing out and interacting across a variety of enterprises.
Highlights of this research include:
Views on typical roles and responsibilities of a CAO and CDO
Common business drivers for establishing one or both of these roles
Tips for success when creating these roles within a company.
and more
The executive summary of this research report, written by Thomas H. Davenport, Robert Morison, Bill Franks and Mike Lampa, is available by filling out the form below.
Download your free copy of the Executive Summary
---