Defining Analytical Excellence in Healthcare
Every day, healthcare providers amass staggering volumes of data from Electronic Medical Records, billing and insurance reimbursements, capacity utilization, and more. Yet collecting the data is no guarantee of improved clinical or financial outcomes, and to cover all their bases, healthcare providers are turning toward analytics to make the best possible use of their data.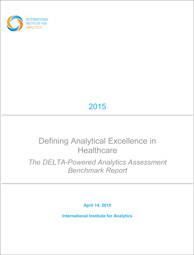 Research conducted by the International Institute for Analytics, in partnership with HIMSS Analytics, shows how top performing healthcare provider organizations have met or exceeded expectations en route to achieving top performer status in the area of data and analytics.
The result of in-depth quantitative research, from over 4,000 respondents at more than 30 healthcare provider organizations, this report provides a checklist that healthcare provider organizations can follow to improve their analytics maturity. Discover these findings and more in our new report, Defining Analytical Excellence in Healthcare: The DELTA Powered Analytics Assessment Benchmark Report.
Download your free copy of "Defining Analytical Excellence in Healthcare: The DELTA Powered Analytics Assessment Benchmark Report"
---