Successful Loyalty Through Analytics
Enrollment in customer loyalty programs is growing at a feverish pace. Seemingly every business these days, from the local grocer to the national retailer to the online commerce website, has a loyalty program for its customers.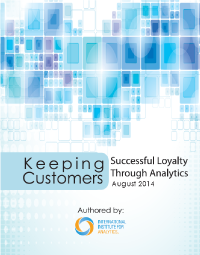 The proliferation of rewards cards, mobile applications, frequent shopping accounts, and referral programs has taken hold in nearly every industry. The average consumer might be surprised at the number of explicit and implicit loyalty programs they belong to. But most businesses struggle to get the most value out of these programs.
Our new research, Keeping Customers: Successful Loyalty Through Analytics, shows that companies with the strongest loyalty programs rely on customer analytics to drive their strategies and create measurable business impact.
This research, commissioned by SAS® and performed by the International Institute for Analytics (IIA) draws upon interviews and survey responses from more than 300 executives at companies with formal customer loyalty programs.
Among our findings:
Top Priorities & Challenges for Customer Loyalty Programs
The 5 Key Differentiators of Effective Loyalty Programs
Analytics Leads the Way to Customer Loyalty
Download your free copy of the "Keeping Customers: Successful Loyalty Through Analytics"
---
As firms devote more resources to their data and analytics programs, IIA has been tracking the evolution of leadership roles that will be required – Chief Analytics Officer (CAO), Chief Data Officer (CDO), and other permutations of these positions.
This report examines who and how many organizations are using Hadoop and offers unbiased recommendations for organizations deciding whether "to Hadoop or not to Hadoop."
Want to stay up-to-date on the latest analytics trends, techniques and best practices? Discover the latest analytics research, insights and best practices on our faculty blog and research library (premium content available to IIA members only).