The Current State of Hadoop in the Enterprise
As business plans increasingly call for reliance on Big Data, and users are becoming more proficient at making use of data through analytical tools, Hadoop has emerged as a popular technology for consideration. But many companies still wonder exactly where and how to leverage Hadoop in order to be successful with big data.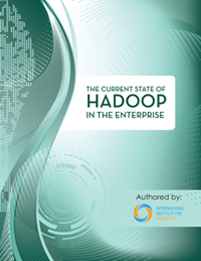 This research report, written by the International Institute for Analytics and sponsored by SAS, reveals that many organizations view Hadoop as playing a strategic role in their future growth, but are still struggling to implement due to complexity, skills gaps, unfriendly analytics interfaces for business users, and the decision to implement a commercial version or to manage it themselves.
This report begins with a summary of the most recent research on Hadoop adoption rates, market size and growth, and the most common use cases of Hadoop today. The second section presents key experiences drawn from interviews with analytics leaders at companies at various stages of Hadoop deployment. The study concludes with a set of recommendations for organizations who are considering Hadoop.
Among our findings:
Examples of what Hadoop can and cannot do
How Hadoop fits within data-driven strategy
How Hadoop relates to organization's enterprise data architecture
Who benefits most from using Hadoop
The role played by talent in a Hadoop deployment
Download your free copy of the "The Current State of Hadoop in the Enterprise"
---