How will Gartner's acquisition of CEB affect you?
By Jack Phillips,

Feb 14, 2017

January was a busy month in the technology advisory industry with Gartner, Inc. (NYSE: IT) acquiring Corporate Executive Board (CEB) (NYSE: CEB) for $3.3 billion and IDG (parent of IDC) being acquired by Japanese investment firm China Oceanwide Holdings Group for an amount just south of $1B. While these two deals are certainly of the "blockbuster" size within the research and advisory sector, IIA's research clients should pay particular attention to the implications of the Gartner and CEB acquisition.

While we at IIA have the utmost respect for the quality of the work and depth of thinking from both of these organizations, the combination of Gartner and CEB – plus the 8 small and medium acquisitions each had made over the past two years1 – should prompt customers to question the combined entity's pricing power, objectivity and focus amid all of the positives the two companies see.

On the surface, the combination of the world's best syndicated research and advisory firm (Gartner) with the leading executive council provider (CEB) should result in complementary services with very little overlap for existing customers. Gartner has always stood for everything IT, while CEB has excelled in talent and operational best practices across the sales, finance, legal, and HR functions. But, here are some issues for customers to consider:
Pricing power
Most of the 350+ research clients IIA has served since our founding are also clients of Gartner, CEB or both in some fashion due to the sheer breadth of coverage of the two firms. Through our client relationships, we hear a lot about pricing plans and bundling discounts offered by these two firms based on a customer's total spend. Our guidance on what to expect in the future in terms of pricing and your total spend depends on where you fall on the grid below: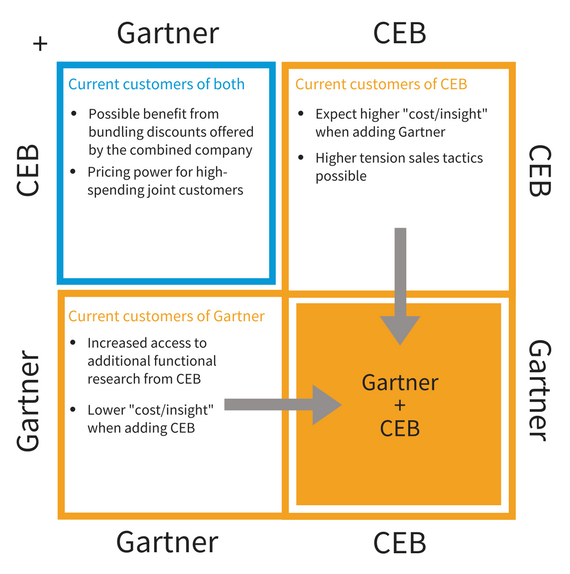 For Gartner clients who are not current CEB clients, you should benefit from access to the functional councils and operational best practices of CEB, generally at a lower "dollar per insight" than you're used to. For clients of both firms, you may benefit from bundling and packaging that the newly joined company offers. CEB clients who are not Gartner clients may experience a bit of a shock from the high-tension Gartner sales approach and relatively higher "dollar per insight" that Gartner commands in the marketplace
Objectivity
The primary value of objective research is the independent voice. The combination of these two firms may logically result in some elimination of overlapping analysts and researchers, thereby watering down the variety of viewpoints to a single voice. The success of the merger in customers' eyes depends on how well the combined entity can pull this off.
Service focus
With any consolidation of this size comes the inevitable pressure to realize all benefits envisioned, both in financial terms ("accretive to Gartner") and service and customer terms (1+1=3). To make it all work, some changes to service offerings and client support is inevitable. For example, will CEB clients still enjoy the high quality experience of its outstanding functional councils? Hard to say.
Of course, we at IIA will fully admit our bias when it comes to independence and focus – since we believe so strongly in our research model founded on objectivity, specificity and focus on analytics performance. If your company is committed to understanding how the highest performers are winning with analytics, you need the independent voice of IIA.
Over the past 24 months, Gartner acquired Machina Research, SCM World, Getapp, Capterra, and Nubera, and CEB acquired Evanta, WantedAnalytics, and CEOForumGroup."> ↵
About the author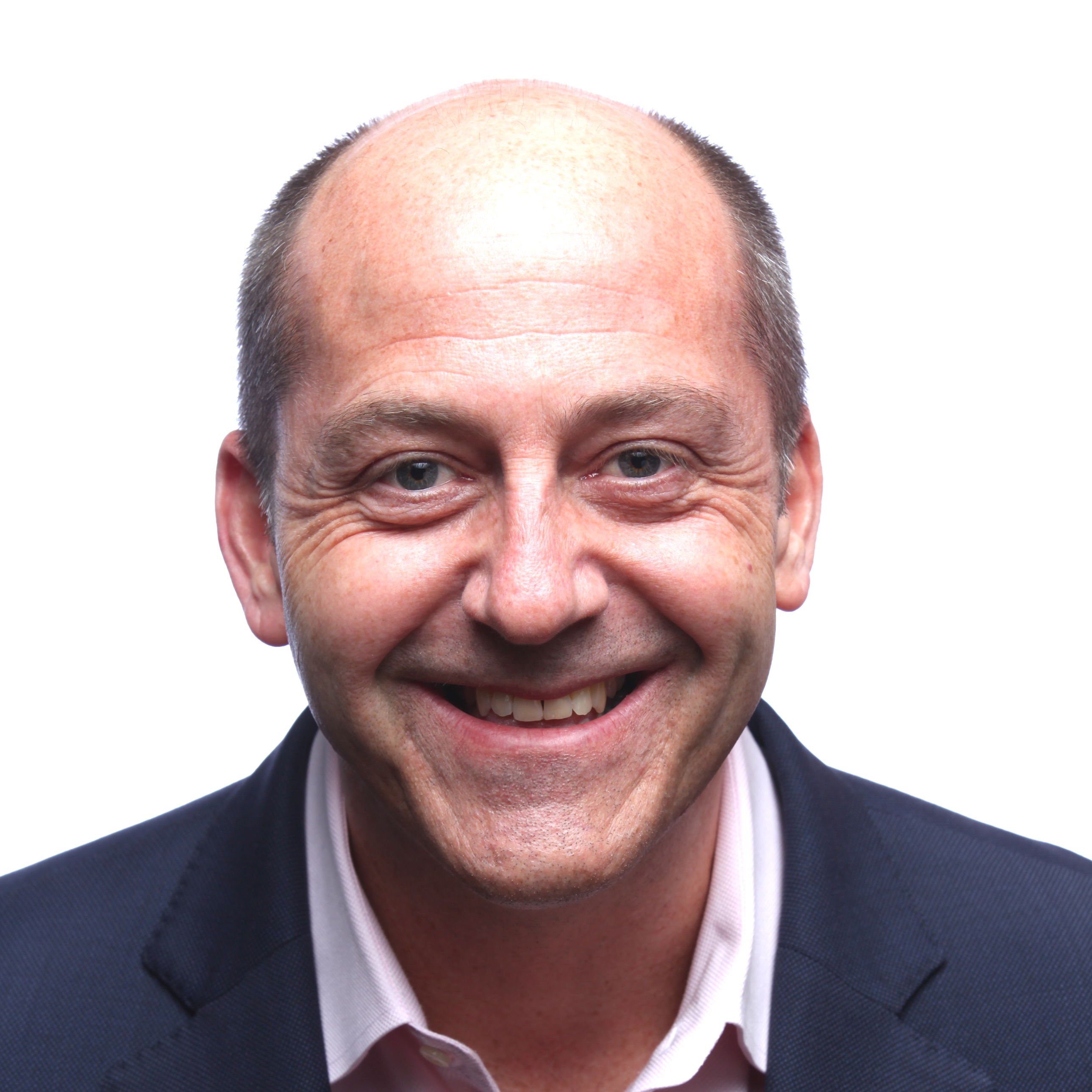 IIA marks the sixth successful start-up venture for Jack Phillips over the past 20 years. Jack specializes in spotting emerging job functions, and building successful information publishing and research firms to help those professionals make better decisions. Prior to joining IIA, Jack held operating and founding roles at INFONXX (now kgb USA), ISI Emerging Markets (now Euromoney, PLC), CCBN (now Thomson/Reuters) and the Institute for Applied Network Security (recent private sale). Jack began his career as an investment banker at Morgan Stanley & Co. in New York, and at the Long-Term Credit Bank of Japan in Tokyo, and held senior operating positions at various McGraw-Hill business units in 1994 before becoming an entrepreneur. Jack is a graduate of Harvard Business School and Williams College, and lives with his wife and three children in Portland, Oregon.
---