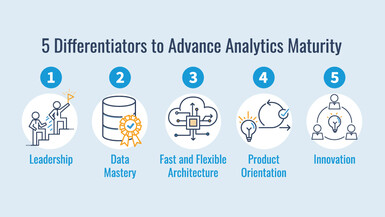 Based on insight from our research and assessments, IIA has identified five areas that are critical to crack if you want to leverage analytics for business advantage and move to a more advanced stage of analytics maturity. We have consolidated them in a whitepaper we call "The 5 Areas of Analytics Differentiation:"

Leadership – cultural transformation requires executives that value and invest in analytics to drive business.

Data Mastery – data is widely understood by most in the enterprise, with some having a tremendous depth of data knowledge.

Fast and Flexible Architecture – analytics is increasingly done in the moment and on the edges, so speed and agility win the day.

Product Orientation – projects are great ways to start the analytics journey; however, analytics solutions increasingly need to meet the standards of great products in that they should be easy and enjoyable to use and have value for the user.

Innovation – to really sustain advantage through analytics, you need to dedicate time and resources to innovation.
This free whitepaper identifies areas of focus and action-oriented approaches for leaders looking to drive enterprise-wide analytics capability for the sake of competitive advantage. Author Drew Smith also addresses how each area has changed in shape and prominence among our clients and other market leaders. Naturally, we keep our eyes and ears open to other areas that are creating analytics advantages; however, we are confident that these five areas are still ones for analytics leaders to obsess about.