Corporate Analytics Training
Accelerate Data-Driven Decisions In Your Organization. Every missed data opportunity impacts your bottom line.
It's no secret companies spend millions on data and technology tools and then end up spending five times that in new staff to put these resources to good use. InsightPathSM, our new corporate training curriculum, allows you to leverage your existing resources by teaching your teams the framework needed to effectively use data to defend and drive strategic business decisions.

InsightPath was created by the International Institute for Analytics in partnership with Capella Learning Solutions. Our business learning solution includes online modules, case-study scenarios and an interactive toolkit – all designed to activate data-driven insights. Our approach provides applied, actionable learning that impacts your real-world business opportunities, right from the start.
A Different Approach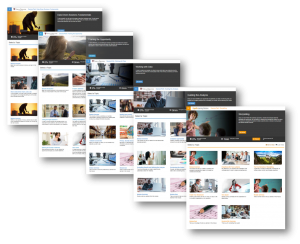 InsightPath's online modules teach your teams important fundamentals, common language and the four-step InsightPath framework. Teams are provided individual and group competency benchmarks by taking a pre- and post-assessment. The learning is supported with case-study scenarios and an interactive toolkit that includes knowledge checks, quizzes, learning activities and action-planning worksheets. Throughout this experience, you will take away immediate and practical insights.
Impact Your Business
Increase productivity by getting more from your data and your people
Work strategically with analytics and data
Use data to identify opportunities
Improve decision accuracy and confidence
Increase efficiency of business decisions
Collaborate more effectively with internal business partners
Leverage scarce resources
Put technology and tool spend to better use
Unique Benefits
Results driven online learning
Learn by doing
Fast and cost effective
Designed for businesses
Easy to implement
Assessed and certified by industry experts
Contact Us To Learn More
---