About IIA
IIA is the authority on analytics maturity and best practices.
Founded in 2010 by CEO Jack Phillips and Research Director Thomas H. Davenport, the International Institute for Analytics is an independent research firm that works with organizations to build strong and competitive analytics programs.
IIA offers unbiased advice in an industry dominated by hardware and software vendors, consultants and system integrators. With a vast network of analytics experts, academics and leaders at successful companies, we guide our clients as they build and grow successful analytics programs.
Since its inception, IIA has worked with more than 200 organizations, sharing the keys to analytics maturity so that our clients gain an edge in an economy increasingly driven by data. Through our in-depth research library, moderated phone calls, webinars and events, our clients get the guidance and expertise needed to compete on analytics and win.
"The most valuable insights are discovered through practical experience. With IIA's research, I learn from my peers on the front lines. The community of analytics leaders that I am a part of is an exclusive group of driven business professionals who actively share both their successes and challenges."

— Emmett Cox, BBVA Compass
---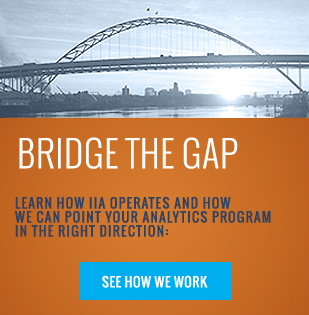 Customer loyalty programs are growing rapidly, but most businesses struggle to get value from these programs. Download our free report and see how the strongest loyalty programs rely on analytics to drive their strategies and create measurable business impact.
IIA is accepting nominations for the 2015 Excellence in Analytics Award. This award acknowledges companies that go above and beyond to develop advanced analytics capabilities. Make your nomination by September 5.
Analytics 3.0 is the stage of maturity where leading organizations get measurable business impact from the combination of traditional analytics and big data. Get our free eBook, by IIA Research Director Tom Davenport.