The IIA invites you to brush up on four critical topics in the IIA Summer School Webinar Series -- Cookieless Marketing, HR Analytics, Supply Chain Analytics and Embedded Analytics. Whether you work as an Enterprise Analytics leader, Functional Analytics Head or are a data and analytics specialist these topics are too big for you to ignore. We will have experts present the changes driving these areas and what analytics leaders at all levels should do to enable their organizations to seize the opportunities these changes present. Invest four hours over the summer for a better Q4, and a great 2022.
Register for the series here to attend live - but if you can't, don't worry, as all registrants will receive the recordings of each webinar to watch on demand. You can also see a preview of the topics that will be covered below.
-
Google has only delayed the inevitable – the end (of third-party cookies) is still coming. Despite Google announcing that it would stop tracking third-party cookies back in January 2020, many analytics teams, both Marketing Analytics and Enterprise Analytics teams, are still working on ways to manage this immense change. We have more time, but we need to use it wisely. Join Sara Stevens, Vice President, Digital Capabilities at Epsilon as she shares some proven approaches, with a focus on privacy first, identity over identifiers, and leveraging first-party data.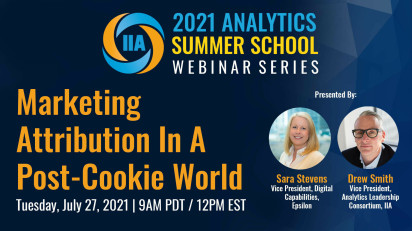 As companies seek to use advanced analytics to drive improved decision-making, knowing how and when to embed those analytics in business processes, in order to eliminate human variance and interference, becomes a critical skill. Embedded analytics raises a host of questions–how do you know your embedded analytics will make consistently superior decisions when compared to your company's best decision-makers? And how do you address the naturally-arising concerns decision-makers have about being "replaced" by algorithms? Join Marc as he lays out the issues walks through the process and describes a framework for navigating this difficult transition.