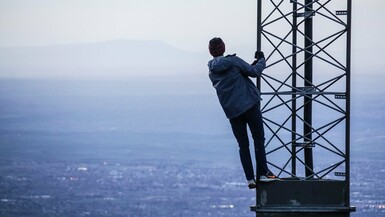 This blog series explores some of the data and analytics topics that are critical to civic leaders and public institutions but also highly relevant to analytics leaders in the private sector. One newer hot topic that is related to infrastructure is 5G technology which began to be deployed globally by cellular companies in 2019. The deployment and wide spread use of 5G is a highly complex topic for a number of reasons and it's an area that I'm still learning about. What is clear is that its promise to deliver high speed, low latency, and improve performance like never before is attractive to consumers and companies alike. So, what are some considerations for 5G? What will the impact be on the public and private sector and why is it taking so long for consumers and businesses to experience this revolution that we keep hearing about and seeing advertised? As a business leader, it's important that you read past the headlines and sort out the hype for yourself because there is inherent risk and while the potential is clear, the path forward is not straight. Below are some quick takeaways and thoughts on the topic.
1. The Promise of 5G
According to IEEE: "5G promises to enable intelligent network and application services with connectivity to remote sensors, massive amounts of IoT data and low-latency data transmissions. Big Data analytics will no longer be an afterthought, and it will play a significant role in the evolution of 5G standards enabling the intelligence across network, applications and business… In many ways, 5G will be a facilitator and an accelerator of the next industrial revolution, often referred to as Industry 4.0."
The image below illustrates the rapid progression of network generations and the exponential shift in speed from 4G to 5G and even 6G which isn't expected until the next decade. This massive shift in performance is a lot for companies to consider and while many are excited about the potential use cases and opportunities, some are perplexed on the implementation process and how to actually get started.
2. Data and Analytics Use Cases
The use cases touted by proponents of 5G are truly endless, the lightning fast speed of delivery and low latency would be a gamechanger for many industries and operating environments. Even though major implementations are still several years out, this disruptive technology will enable real-time analytics across industries as well as impact individuals on a personal level. Here are some examples:
Healthcare – Wearable and implanted medical devices such as insulin pumps, continuous glucose monitors (CGMs), pacemakers, bands to detect tremors, etc. could automatically upload results to a caregiver or medical provider for immediate evaluation, feedback, and action/intervention thus reducing the risk of adverse outcomes. As the mom of a child with Type 1 Diabetes , I'm always excited to hear about new and better ways to manage my son's chronic illness so this could be a game changer in terms of remote care management for families as well as healthcare professionals.

Smart cities – Infrastructure will be interlinked and could quickly detect changes and adapt to a number of situations e.g., changes in weather patterns could immediately alert commuters of potential dangers and redirect drivers to other routes, traffic lights could automatically adjust to traffic patterns and more effectively manage congested areas.

Automotive – Manufacturing could include additional automation with humans and machines working side by side; autonomous vehicles would be better connected especially in smart cities making them safer and smarter with the ability to connect with other autonomous vehicles on the road.

Precision farming– Sensors on tractors could capture data and deliver results and analysis even faster than today as well as enable real-time communication between operators live in the field versus having to return to a Wi-Fi station and wait for the data to load.

Insurers – Autonomous deployment of drones to evaluate disaster areas is already happening but more in-depth analysis coupled with delivering real-time communication to address trouble spots could be next.

Emergency Response – First responders could receive immediate guidance and recommended actions while in the field e.g., an EMT could connect with a specialist via AR for input on how to provide advanced medical care or a fire crew could use AR helmets to identify people and objects in smoke filled rooms otherwise undetectable. (CNET)

Consumer – Immersive AR and 3D experiences for fans at music and sporting events as well as shoppers in retail environments; the engagement and interaction in these venues will be revolutionary.
3. Innovation Labs at Work
Countless 5G labs and incubators have emerged to prepare for this new reality that 5G will make possible. AT&T's incubator includes companies like: Cisco, Ericsson, Infosys, Intel, Magic Leap, Microsoft, Nokia, Samsung, and WarnerMedia while Verizon has built out five 5G labs to work with local innovators in cities like NYC, LA, and DC. Meanwhile in Seattle, T-Mobile, Intel, and NASA founded the 5G Open Innovation Lab which provides startups a place to experiment with the new technology, explore possible innovations, and receive advice from mentors. Smaller, industry specific labs have also been established so professionals in the field can provide direct feedback on their vision for 5G usage and what's realistic versus hype.
4. Municipality Opposition
In order to reap the benefits of 5G, small towers will need to be set up every few blocks versus the current set up where towers are located every few miles. The close proximity to homes has raised a number of fears ranging from the safety of the towers and millimeter wave frequencies to the size of the antennae and its impact on ascetics and home values. Multiple studies around the world have been commissioned to evaluate the environmental and health impact of 5G but major findings have yet to be released. In addition to health concerns, there is heated debate by local municipalities over infrastructure costs and maintaining the towers once installed as there is no clear indicator on who will ultimately be responsible for the maintenance and associated costs of the 5G towers. In some cities, leaders are actually voting against 5G deployment for some of these reasons such as Mill Valley, CA which is located in the heart of Silicon Valley. The Wall Street Journal wrote a piece on this topic highlighting additional cities opposed to 5G and how mayors are questioning the FCC's push to implement 5G as quickly as possible.
5. Deployment Challenges
The deployment of 5G is truly a megaproject and these types of infrastructure projects can take decades and billions to complete and while each 5G tower only takes a couple of hours to install, the permitting process can range from 60 days to up to 18 months for approval. Verizon, T-Mobile, and AT&T are all racing to claim 5G towers in major cities but it's estimated that it will be several years before cities are completely covered. For instance, Sacramento began its 5G rollout late last year and installed about 200 towers in the downtown area but "Bay Area-based wireless industry analyst Earl Lum spent eight days in Sacramento conducting his own survey and his tests show Verizon's 5G covers less than 10 percent of the city. Lum said the company would need as many as 4,000 5G sites to provide full coverage… at a minimum it would take another three years if not three to five years to get some level of reasonable coverage across Sacramento." Couple this delay with mobile plans increasing in cost to include 5G coverage and it may be some time before consumers are ready to pay more for potentially spotty and unreliable 5G coverage.
As a business leader, it's important to not be distracted by the promises of a mobile phone provider -- you need to focus on the impact 5G will have on your organization. While one train of thought is to step back and let things be chaotic and work themselves out before moving forward with 5G, you could also come in early and be a 5G pioneer. Regardless, you should be aware that there will be significant hurdles and you and your organization should be prepared and have a plan in place. So, what are your thoughts on 5G – do you see this new technology as a concern or welcome it and the new, enhanced capabilities and experience it will provide?
Lise Massey is the Program Manager for IIA's Analytics Leadership Consortium (ALC) and has been with IIA for six years. The ALC is a closed network of senior analytics executives from diverse industries who meet to share and discuss best practices, as well as discover and develop analytics innovation, all for the purpose of improving the business impact of analytics at their firms. Prior to IIA, Lise spent over 10 years designing, managing, and leading media analytics programs for a diverse portfolio of clients and has experience in many aspects of program and project management, account management, strategic and tactical planning, business development, and training. Lise is a graduate from the University of Oregon.
You can view more posts by Lise here.
Follow IIA on LinkedIn, Twitter and Facebook for more updates.