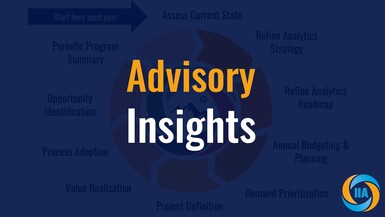 In last quarter's Advisory Insights blog, I introduced IIA's Checkpoints offerings. In my regular Analytics Matters blog in June, I talked about several pitfalls that can occur as you try to measure and track progress in your analytics maturity over time. Here, I will tie the two together by discussing how the Checkpoints offered through IIA's advisory services can help you navigate around those pitfalls.
A Review Of Some Common Maturity Assessment Pitfalls
The key takeaways section from the June blog is repeated below to provide context for the rest of this discussion.
To sum up, there are a couple of recommendations that will help your team avoid becoming dejected and / or taking a public beating if objective progress and subjective sentiment are not initially fully correlated:
Never forget that technical progress will not matter if stakeholders are not made aware of the progress and enabled to take advantage of the new capabilities.

Remember that it takes time for a new capability to move from availability, to adoption, to realization of value. Being "done" rolling out a new capability is not the end of the story.

As you make stakeholders aware of the exciting new capabilities coming, you're also making them more aware of what they are missing today. This can lead their sentiment to become more negative in the short term. Don't let this be a surprise.
By planning for both the objective and subjective aspects of progress, you'll be much more likely to succeed in your efforts to improve your organization's analytics and data science capabilities and the impact those efforts have on the enterprise.
IIA Can Help You Avoid The Pitfalls
IIA's Assess Current State Checkpoint follows an Analytics Maturity Assessment initiative. After IIA has delivered the results of the assessment and summarized what we see as the implications of the results, the hard work for our clients begins. Taking the results into account, it is necessary to:
Identify where remedial action and / or additional investment is warranted

Validate that the current analytics strategy is in line with the reality of the organization's state

Determine the best way to deliver the news, both good and bad, to the organization
What's really needed is to determine a prioritized list of actions (with owners) that are required to address the results of the assessment. This is where IIA's advisory services come into play. We can come in and facilitate the development of those action plans. As a neutral 3rd party, IIA can provide insights into what other similar organizations have done, can help to referee the difficult discussions needed to set the priorities, and can help to distill the actions identified into writing. Figure 1 has an overview of the Assess Current State Checkpoint.
The Work Doesn't End With The Assessment Results!
Getting through an assessment initiative is just the first step. Be sure to plan for the hard work that follows that assessment. Determining what to do based on the results is the most important step. With IIA's advisory services, you can get the support you need to ensure that you follow through with developing a solid action plan. We have found that clients appreciate the extra support in getting their stakeholders aligned and value the outside support that helps ensure everyone keeps the results in the right context. Having worked with many organizations, IIA knows how to help guide you and your team toward a path to success.
Originally published by the International Institute for Analytics
Bill Franks, Chief Analytics Officer, helps drive IIA's strategy and thought leadership, as well as heading up IIA's advisory services. IIA's advisory services help clients navigate common challenges that analytics organizations face throughout each annual cycle. Bill is also the author of Taming The Big Data Tidal Wave and The Analytics Revolution. His work has spanned clients in a variety of industries for companies ranging in size from Fortune 100 companies to small non-profit organizations. You can learn more at http://www.bill-franks.com.
You can view more posts by Bill here.