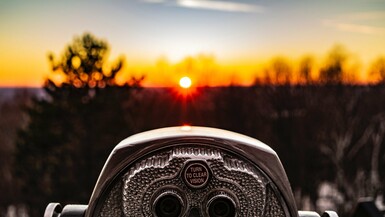 In my previous company IKEA, I was fortunate to work in a retail company whose vision really spoke to me. IKEA aims to "create a better everyday life for the many people." And, whether I was leading a product category or enterprise analytics, me, my team and my colleagues were 100% trying to deliver to that vision. Even if our analytics were oriented towards, for example, stock optimization we genuinely felt connected to this vision. Now in my new role at the IIA I have the chance to work with a lot of companies from across industries, and a few of them inspire me to think analytics could be even more strongly connected to an organization's mission. I'd like to share a bit about how I'm inspired by the mission driven analytics of clients in healthcare, which has never had more focus than it has now. And I'll share some thoughts on how to take this beyond healthcare, as well as the benefits of putting some effort in this area.
Leading healthcare analytics teams seem to be better at making the mission of their organization a programmatic part of their analytics, in three ways.
The connection to the mission is clear. While, I know analytics leaders across industries aim to keep their strategic aims (growth, profit, cost optimization, etc.) in mind, a mission is more enduring, and often more engaging. While lower cost might be the desired outcome of an analytics product in healthcare (as elsewhere); in healthcare I find leaders are better at connecting that to the mission, for example "provide better health outcomes, regardless of capacity to pay."

The mission is a north star. Missions are often broader and directional. And while that can make it tricky to connect analytics outcomes to them, it also enables multiple analytics products that might seem at odds with each other to be in service of the larger mission. For example, increasing how quickly patients are seen in a hospital could be viewed to compromise the quality of care to individuals, but analytics products that better match patient need to caregiver can deliver both to speed and quality to the individuals and better service to the larger community.

The mission is a key factor into prioritization. Most companies, across industries are quite good at ensuring the company's mission or vision is considered in analytics products. Often however it's a tie breaker when other things, like growth and market share, are equal. Or worse, it's a post facto PR exercise. In healthcare, it's a primary driver of whether an analytics product gets undertaken at all.
There are essentially three benefits that you, as an analytics leader, can realize by putting more emphasis on the mission of your organization in your analytics efforts.
Elevate the role of analytics in your organization. More and more analytics teams are rightfully viewed as essential to the organization based on their delivery of business value. Further integrating your firm's mission in your analytics work will reinforce the essential nature of analytics and give that work a long-term perspective. Please know this is not a cynical ploy suggesting you make fake connections, but rather a belief that if the mission is worthwhile then your analytics efforts need to be designed and developed to support it in unique ways, much as your CSR efforts do. Excessive returns in multi-channel retail is a very real and impactful problem, not only for a company's bottom line, but also its carbon footprint. And if sustainability is a part of your mission, as it is for Swedish athletic retailer Stadium, your analytics should support that. So, I was happy to see this in action at a SAS Sweden Hackathon, with Houston Analytics supporting.

Align your analytics organization both internally and with partners. It's not uncommon to hear about teams that talk past each other, whether it's internal debates among analytics teams or intra-company misunderstandings. Even aligned on a common business goal, different approaches can drive debate – healthy and otherwise. Working with a focus on the mission is a way point that debate in a common and helpful direction.

Recruit and retain talent that sees themselves as strong contributors and leaders to something bigger than themselves. Often when people see this type of higher order impact in their work they stick around longer. Since the recruitment and retention of data talent is an industry agnostic pain point, increasing your focus here is almost guaranteed to be worthwhile.
Building your organization's mission into your analytics approach is not mindless chugging of the corporate Kool-Aid, or sycophantic pandering to the company brass. It's about analytics leaders deploying the unique capabilities of their part of the organization to deliver to the most noble promises their larger organizations make to their stakeholders.
About Drew
Drew has close to 20 years of experience, having worked on both the business side of analytics, leveraging insights for business performance, and on the delivery side of analytics driving the use of enterprise analytics. As the lead of Analytics Leadership Consortium, Drew drives engagement with analytics executives and top analytics practitioners in the IIA Community to help them lead their firm's journey to analytics excellence.
Before joining the IIA, he led the Enterprise Data Analytics and Governance function at IKEA's global headquarters in Europe. He leveraged analytics in various leadership roles across the IKEA value chain in both the United States and Europe. He received his MBA from Penn State and his undergraduate degree from Boston University.
About The Analytics Leadership Consortium (ALC)
The Analytics Leadership Consortium (ALC) is a closed network of analytics executives from diverse industries who meet to share and discuss real world best practices, as well as discover and develop analytics innovation, all for the purpose of improving the analytics maturity of their firms and securing the business impact they deliver.
You can view more posts by Drew here.
Follow IIA on LinkedIn, Twitter and Facebook for more updates.