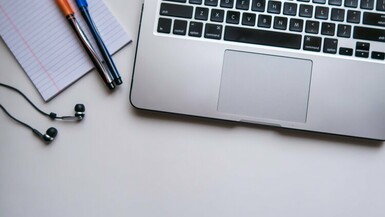 Here is a roundup of interesting sites, resources and articles from around the web, curated by IIA. February's edition includes interesting articles on data science qualifications, spatial computing, deploying analytics workloads on AWS, digital medicine, autonomous vehicles and diversity. Follow us on Twitter (@iianalytics) and LinkedIn to receive daily updates on IIA content and curated content as it becomes available.
Featured Article from Analytics Leadership Consortium Newsletter
Each month, IIA's Analytics Leadership Consortium (ALC) publishes a newsletter featuring reviews of timely and relevant 3rd party articles. Here is one of the articles highlighted in a previous newsletter.
IIA's article summary: Centralizing the components of a Machine Learning process can enable companies to deliver more ML products with fewer specialized resources. Or at least that's the promise of products like Alteryx, AWS Sagemaker, Dataiku, Databricks, and Datarobot. This article helps clarify how this category of tools can help firms deploy more ML and compares the relative strengths and weaknesses of these services. View the full article here.
IIA Recommends:
Make a conscious and clear assessment of your engineering talent since the more robust and flexible tools in the list like Sagemaker require deeper levels of engineering competence.
Alternatively, be aware of the limitations of the tools that do more of the engineering in advance, tools like Datarobot.
Large enterprises could likely find a home for two of these tools in their stack - one like Dataiku where you might need to invest in capability, but is likely to scale with you and a more limited auto ML tool like Datarobot which can use your structured data already in smaller analytical models to help advance the value of ML.
Featured Articles on Analytics Strategy
Turning Data into Value with Advanced Analytics (O'Reilly Media)
Countless companies fail to implement data management and advanced analytics properly due to the changing data landscape, its complexity, the rapidly increasing amount of data, and the accompanying integration challenges. This article provides principles, observations, best practices, and patterns to overcome these challenges.
Managing the Unintended Consequences of Your Innovations (Harvard Business Review)
New technologies like machine learning and artificial intelligence have unintended consequences that responsible organizations must manage.
The Maturation of Data Science (Datanami)
A review of how data science has overcome reproducibility challenges and is moving toward a better, more professional and predictable future.
Featured Articles on Analytics Talent
The Top 5 Data Science Qualifications (Toward Data Science)
This article provides a good overview of data science hiring considerations including programming, business savvy and intelligence, statistics and mathematics, machine learning and visualization.
Featured Articles on Data and Analytics Technology
Modern Unified Data Architecture (Towards Data Science)
This article provides a great overview of the key components and considerations of a modern data architecture including good conceptual diagrams on the key challenges and stages.
Data Analytics Lifecycle using AWS (Medium)
This is a good overview of the data analytics lifecycle as seen through the suite of tools and services available on AWS.
Spatial Computing Could Be the Next Big Thing (Scientific American)
Interesting article on "spatial computing" and the continued convergence of the physical and digital worlds. Spatial computing combines the capabilities of virtual-reality and augmented-reality with high-fidelity spatial mapping to enable a computer "coordinator" to track and control the movements and interactions through digital and physical worlds.
Featured Articles with Analytics Uses and Case Studies
Digital Medicine Can Diagnose and Treat What Ails You (Scientific America)
Good article summarizing how artificial intelligence is being applied to mobile device data such as heart rate, voices, location, facial expressions, exercise, sleep and texting activity to provide early detection of medical conditions including atrial fibrillation, breathing disorders, depression, Parkinson's, Alzheimer's, autism and other conditions.
Towards Autonomous Vehicles 2021 (Towards Artificial Intelligence)
This is a good primer on the approaches and technologies required for autonomous vehicles and roundup of recent articles covering developments in the field.
Can a Computer Devise a Theory of Everything? (NY Times)
In Depth article on how AI can be used to help us unlock new understanding in advanced scientific fields like physical and astronomy.
Featured Articles on AI
AI Accuracy Is Overrated: How Even A "Wrong" Model Can Transform Your Business (Forbes)
Ganes Kesari outlines four ways to make sure your machine learning solution delivers business value including quotes from Astellas' Ryan Moore and IIA's Drew Smith.
How to Make Artificial Intelligence More Democratic (Scientific American)
As AI becomes more complex the pool of researchers that can afford to do cutting AI research is shrinking. This article explores how new AI techniques can make AI research more affordable, thus expanding the number of people that can participate.
AIs that Read Sentences are Now Catching Coronavirus Mutations (Technology Review)
Interesting article on how NLP algorithms designed for words and sentences can also be used to interpret genetic changes in viruses.
Artificial Intelligence Is Now Shockingly Good at Sounding Human (Scientific American)
Synthetic voices have made huge advances over the last decade and are now ubiquitous. As the technology used to make them improves researchers are working to replicate not just what we say but how we say it.
This AI Can Explain How it Solves Rubik's Cube—and That's a Big Deal (Fast Company)
This interesting article explores how the understanding how algorithms solve simple problems can help us tackle some of humanity's biggest challenges.
Evolve: Operationalizing Diversity, Equity, and Inclusion in Your AI projects (VentureBeat)
AI has the ability to do amazing things, but its use can often have dangerous and unintended consequences. Operationalizing good diversity, equity, and inclusion (DEI) practices can ensure fairness and provide practical benefits. This article provides good set of best practices for making it happen.
Featured Resources and Blog Sites
The Data Science at Microsoft Blog provides insights on analytics methods, visualization, engineering, organization and people management.
AirBnB Engineering & Data Science
This blog provides great insights on AirBnB's approach to AI, ML, mobile, infrastructure, open source and more.
2020's Top AI & Machine Learning Research Papers
A good top 10 list of the best artificial intelligence and machine learning research papers from 2020.
The 8 Best Books About Artificial Intelligence to Read Now
Wired magazine has compiled a list of the 8 best AI books. The list includes 1.) Driven, 2.) If Then, 3.) The Hype Machine, 4.) Predict and Surveil, 5.) Voices From the Valley, 6.) Digitize and Punish, 7.) New Laws of Robotics and 8.) The Great Decoupling.
Featured News and Information Sites
The Data, AI and Machine Learning section of MIT SLoan Review provides great articles and insights are analytics strategy, management and operationalization.
Scientific American – Technology
The Technology section of the Scientific American often includes in depth articles on artificial intelligence and supporting technologies.
Open Data Science provides insights on open source analytics, ML and AI tools and technologies.
Mind Matters News has interesting articles and blogs that focus on the issues, challenges, and controversies relating to human and artificial intelligence from a perspective that values the unique capabilities of human beings. Mind Matters is published by the Walter Bradley Center for Natural and Artificial Intelligence.
About IIA
IIA is the industry's leading source of insights and advisory services for companies transitioning to data-driven decision-making and advanced analytics. IIA continuously seeks out insights, information and experts to elevate our client's and our community's analytics expertise through two service lines. IIA's Research and Advisory Network (RAN) provides clients with access to the world's largest analytics-focused expert network; a resource designed to accelerate analytics teams' progress against their projects and initiatives. IIA's Analytics Leadership Consortium is a closed network of analytics executives from diverse industries who meet to share and discuss best practices, as well as discover and develop analytics innovation, all for the purpose of improving the business impact of analytics at their firms.