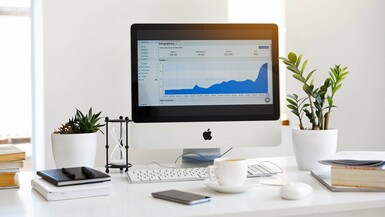 It's natural for an analytic team to hit a plateau. That place where they accomplished their goals and need to figure out how they can continue generating value. Sometimes these teams have a backlog of projects that need to be prioritized. Other times these teams aren't sure where to go next. Either way, consistently generating value is critical to continued business support. Figuring out how to deliver analytics value in a repeatable way is the challenge.
At the most basic level, improving analytics returns requires discipline. Namely a way baseline and measure analytics return. The International Institute for Analytics (IIA) recently published a research brief written by Doug Mirsky, Head of IIA's Research and Advisory Network. This brief provides a great framework for thinking about measuring analytics value. IIA members can access this exclusive research brief here.
Assuming your process for measuring analytics value is in place, here are five ways an analytics team can improve their analytics returns.
EMBED ANALYTICS INTO STRATEGIC GOALS
Even if an organization doesn't have a formal business strategy, the organization's leadership will still have goals. Building an analytic plan to support these goals is a quick way to improve analytics value generation. There are two ways you can use analytics to do this. First, by measuring progress related to target outcomes for each goal. An analytics team can help business leaders establish a baseline and measure their progress. Second, analytics teams can provide the deep insights necessary to deliver improved organization performance. Whether improving customer retention or driving growth from new segments, analytics teams can help business leaders meet their goals and deliver value to the organization.
CREATE NEW DATA ASSETS
The right data assets can drive significant value for an organization. A new data asset can even create entirely new revenue streams. Developing customer benchmark data is the most common method for creating a new data asset. Comparing a given customer to a benchmark of all the organization's customers can be an effective way to keep or win new business. Another model is integrating internal data with 3rd party subscription data. Capturing product sensor data to analyze maintenance cycles and identify broken equipment is another. Even creating a 360-degree view of customer interactions can generate significant value. Unique data sets give analytics teams the ability to generate new insights and value for an organization.
FOCUS ON BUSINESS CHANGE
Business change is the fuel that powers value generation from analytics. Harvard Business Review published an article titled Change Management is Becoming Increasingly Data Driven. This article outlines the importance of using data to drive business change. An analytics project that's not enabling business change isn't actionable. These types of analytics projects will always struggle to deliver a meaningful business return. For that reason, it's important to evaluate each project through the lens of business change. Ask this key questions: What business change will this analytic project enable? What tangible business outcome will be generated? When the answer to these questions isn't sufficient, that project should be redefined or taken off the priority list altogether. This one exercise can significantly improve the value generation of an analytics team.
TEST BEFORE YOU INVEST
As we know, not all analytics projects work out. Sometimes the value just isn't there. In these situations, if your organization has implemented technology before proving the value, your overall analytics return takes a hit. The easiest way to avoid this trap is to adopt a policy of 'test before you invest'. Run a pilot to prove the value first. If the pilot outcome produces value, the organization will have learned a lot about what required of the technology solution. If the pilot is not valuable, the organization saved itself from an expensive mistake. There are very few situations where an organization can't test before they invest.
TAKE A PORTFOLIO APPROACH
Most organizations have a long list of potential analytic projects. Usually more projects than resources. The hard truth is that a healthy percentage of projects won't move the value needle very much. Conversely there are other projects with huge value potential. They often have big risks too. Financial managers have learned to balance this risk/reward dynamic by taking a portfolio approach. This concept can be applied to analytics prioritization too. It essentially means finding the right balance between the sure bet/lower value projects and the high risk/high opportunity projects. To learn more about taking a portfolio approach, read my article 5 Reasons to Take a Portfolio Approach to Analytics. It takes a deeper dive into implementing a portfolio approach to analytics. The article also includes a link to a free analytics prioritization toolkit that will help jump start your prioritization process and help improve your analytics returns.
These five ideas when implemented individually or together, have the ability to significantly improve the analytics returns of an organization. But it requires consistency and discipline. The consistency to continually evaluate which projects should be pursued, and the discipline to track the value generated from your analytics projects.