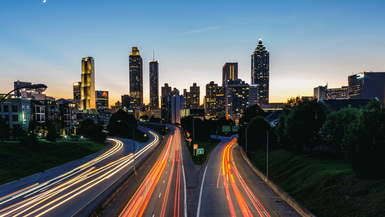 Yesterday, almost 200 of IIA's clients, analytics experts and advisory network members gathered together to discuss the top trends and challenges of the analytics industry. The presentations were insightful, drove conversations and had actionable takeaways. The three themes of transformation, artificial intelligence (AI), and data-driven cultures were threaded in all of the presentations. IIA will be sharing more detailed insights of the coming weeks but for now here are some of the key highlights of each session:
PAUL BALLEW – LEVERAGING DATA AND ANALYTICS TO DRIVE TRANSFORMATION
Ford's digital transformation and cultivation of an analytics-driven culture has been a long journey. The job of analytics practitioners is not to answer immediate questions with data in isolation, but rather to drive transformation by working closely with business functions and translate the science.
ABHI SETH – BI ISN'T ANALYTICS: HONEYWELL AEROSPACE ANALYTICS TEAM TAKES FLIGHT
Business intelligence (BI) isn't analytics, but both are important. In a short period of time, Honeywell transitioned from having only BI programs to utilizing advanced analytics techniques. Abhi shared five components of analytics success: (1) align analytics to business goals, (2) identify analytics champions, (3) prioritize value (the most important, according to Abhi), (4) organizational structure, and (5) process maturity. The Honeywell Aerospace analytics team's key metrics for assessing the value of a project are return on investment (ROI), realized value, and portfolio yield.
ALEX BARCLAY – COMPETING ON ANALYTICS IS A "TEAM SPORT," BUT WHICH SPORT?
The healthcare industry is challenged by the sheer amount of patient health data and the control of that sensitive data. Alex's team at Optum uses natural language processing (NLP) and artificial intelligence (AI) to harness the large quantity of data, and the company has invested heavily in data security, data curation, and data engineering. Another challenge – one that spans across industries – is prioritization of analytics at an executive level. Creating a data-driven culture starts from the top down, so Optum engaged its senior business leaders with training and workshops. Optum formed a "Data Science University" to boost the knowledge and skills of current and aspiring data scientists from across the organization.
TOM DAVENPORT AND KATHY KOONTZ – THE AI ADVANTAGE: A FIRESIDE CHAT WITH TOM AND KATHY
Tom and Kathy sat down to discuss Tom's new book, The AI Advantage, as well as the current and future state of AI in the enterprise. The role of AI in an enterprise's digital transformation is to process the large amounts of data to get to that level of transformation – that's why digital native companies invest and implement AI so heavily. There is a huge gap between digital natives and traditional or legacy industries in terms of AI adoption, investment, and especially implementation.
2018 ANNY EXCELLENCE IN ANALYTICS AWARD
This year IIA received a record number of applications for the ANNY Excellence in Analytics Award. Submissions were reviewed by a panel of five judges led by Bill Franks and evaluated in five key areas: outcomes, ambition, scale, skills, and insights. Honeywell was awarded the 2018 ANNY for its Dynamic Value Pricing project. The three other finalists were Freddie Mac, HDFC Bank, and Steelcase.
SAMEER CHOPRA – FROM BLACKBOX TO GLASSBOX AND OTHER AI TRENDS
Sameer raised two important questions to consider about ethics around AI: how do we teach AI programs to respond to ethical dilemmas? Who makes that decision? These questions will become increasingly prevalent in the next few years as adoption of automation and AI increase.
JENNIFER PRIESTLEY – HOW THE EVOLUTION OF DATA SCIENCE IS CHANGING THE KNOWLEDGE NEEDS OF ITS PRACTITIONERS
Demand for analytics talent is high across all industries; after all, everyone is trying to solve the same data challenges. The data ecosystem is evolving and academic programs are adapting accordingly with new tools and techniques as well as multidisciplinary studies. Jennifer shared three benefits of partnering with universities: growing the talent, alternative perspectives and insights, and screening talent.
MANO MANNOOCHAHR – GE'S PATH TO EMERGING ANALYTICS TECHNOLOGIES
GE is investing in AI, machine learning, chatbots, AR and VR, cloud computing, data lakes, and advanced analytics. Priorities for Mano's team at GE include accelerating business outcomes, delivering a solid data foundation, and cultivating a data culture; they leverage IIA to achieve those goals
Stay posted to IIA's social channels to see videos and the full event brief.