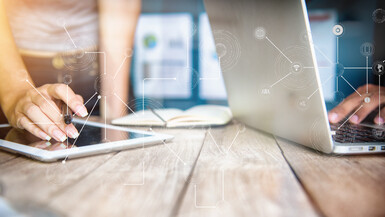 Read below for a roundup of interesting sites, resources, and articles from around the web, curated and contextualized by unbiased analytics experts at IIA. Highlights include articles on the disillusionment of "self-service", a return to data modeling, a massive roadblock for AI, and an article about the things data engineers can learn from software engineers. Follow us on Twitter and LinkedIn to receive daily updates on IIA content and curated content as it becomes available.
"Article of the Week" from IIA's Normal Distribution
Each week, IIA's Normal Distribution email (sent to anyone that has filled out a form on our website) features timely and relevant third-party articles. Here are the articles highlighted in the "Article of the Week" from the January Normal Distribution emails.
Design Thinking Improves Your Data Science (Towards Data Science)
We're all aware of the rising popularity of design thinking in data science, but how exactly does it change the typical problem-solving approach for a data scientist, and why is it so popular? This article delves into how design thinking improves data science and provides 5 steps to ensure a successful design thinking process.
7 Tips to Make Your Data Analysis More Robust (Towards Data Science)
Staying up-to-date on the best practices and newest technologies is a major part of working in the D&A space. This article provides 7 tips on keeping your analysis sharp and ways to stay up-to-date with the ever-changing industry.

What Data Engineers Can Learn from Software Engineers (Towards Data Science)
The author of this article draws on their experience transitioning from a software engineer to a data engineer to explain what the two closely linked professions can learn from each other. In the article, they discuss why software engineering code-based best practices ought to be widely adopted in the data engineering sphere and a myriad of other lessons the two professions can learn from one another.
Featured Articles on Analytics Strategy
Data Catalogs Will Change Data Culture Within Your Company (Dev Genius)
As companies focus more on data-centricity and data accessibility, it makes data catalogs are a powerful tool for companies to become more data-centric. They provide a single source of truth for data, making it easier for users to find the right data and reducing the amount of time spent searching. They also provide users with better data governance, enabling companies to ensure their data is up to date and secure.
How to Gain a Competitive Advantage on Customer Insights (Harvard Business Review)
Companies wanting to gain a competitive advantage from analytics need to do so through their privileged access to customer insights. This article, based on a study of 12 companies that have undertaken significant transformation to position themselves for success in the digital age, covers exactly how companies have created an advantage by leveraging customer insights to overhaul the customer service experience, product and service development, and customer success.
8 Strategies for Chief Data Officers to Create (Harvard Business Review)
The CDO role is poorly understood, and incumbents of the job have often met with diffuse expectations and short tenures. There is a clear need for CDOs to focus on adding visible value to their organizations. The authors suggest eight strategies for CDOs to create — and show — value for their companies
Featured Articles on Analytics Use Cases
How AI Powers Sam's Club's Holiday Product Assortment (VentureBeat)
This case study of Vinod Bidarkoppa, CTO at Sam's Club, showcases how the team uses AI to predict demand for pies and eliminate overall food waste. The ML algorithm used takes into account weather conditions, holiday dates, and shelf life. The result of the algorithm is then sent to suppliers to replenish the perfect amount of pies to distribution centers.
Can AI Really Help You Sell? (Harvard Business Review)
Despite the fact that salespeople are struggling to make their annual quotas, with only 57% of them succeeding, many organizations are still ignoring the potential of AI tools to help improve their sales process. This article from Harvard Business Review showcases the success of a few companies that have adopted AI tools, and also provides a self-assessment tool, the Sales Success Matrix, to help sales leaders determine where to begin with or improve their AI journey.

Featured Articles on AI
The Disruptive Economic Impact Of Artificial Intelligence (Forbes)
This article, based on the book Power and Prediction - The Disruptive Economics of Artificial Intelligence, explains that we are in an "in-between" era of AI and why, when we reach the end goal of decoupling prediction from decision-making, we will truly see the impact of AI.

Top AI Investors Reveal State of AI in 2022 (VentureBeat)
Here, two venture capitalist founders break down what they see to be the biggest trends in AI for 2023, including: coding assistance, text-to-art, the role of Nvidia in AI, AI safety, and more.