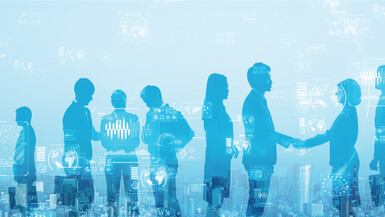 Read below for a roundup of interesting sites, resources, and articles from around the web, curated and contextualized by unbiased analytics experts at IIA. Highlights include a case study on a credit union's recent data project improving member service, a cheat sheet for the best ChatGPT plugins for data science, and academic article on the importance of human roles in work done by AI. Follow us on Twitter and LinkedIn to receive daily updates on IIA content and curated content as it becomes available.
Featured Articles on AI
10 ChatGPT Plugins for Data Science Cheat Sheet (KD Nuggets)

KD Nuggets put together this cheat sheet of the best 10 ChatGPT plugins and goes over the basics of integrating plugins into a ChatGPT instance. The plugins aid with everything from connecting ChatGPT and Bing search to creating bespoke data visualizations.
The AI Hype Cycle Is Distracting Companies (Harvard Business Review)

This sobering article from HBR claims that "machine learning has an 'AI' problem." With new breathtaking capabilities from generative AI released every several months — and AI hype escalating at an even higher rate — the authors believe it's time to differentiate most of today's practical ML projects from those research advances. This begins by correctly naming such projects: Call them "ML," not "AI." The authors claim that including all ML initiatives under the "AI" umbrella oversells and misleads, contributing to a high failure rate for ML business deployments.

Featured Articles on Analytics Use Cases
How a Credit Union Leveraged Data Analytics to Improve Member Service (VentureBeat)

This article highlights how a credit union successfully utilized data analytics to enhance member service. By leveraging data insights, the credit union gained a comprehensive understanding of their members' needs and preferences, allowing them to offer personalized and efficient services. The implementation of data-driven strategies resulted in improved member satisfaction and increased operational efficiency.

Featured Articles on Analytics Strategy
Your Data Strategy Needs to Include Everyone (Harvard Business Review)

"A more pervasive and integrated approach to using data, analytics, and AI" - this article claims an entirely new "management paradigm" for data is needed. Eventually, it needs to incorporate corporate culture, relationships with universities and vendors, policy, and anything else that advances, or holds back the effective use of data. The new paradigm employs a more pervasive and integrated approach to using data, analytics, and AI in the business.
Why Healthcare in the Cloud Must Move to Zero Trust Cybersecurity (Venture Beat)

The article emphasizes the importance of implementing zero-trust cybersecurity in the healthcare industry's cloud infrastructure. It explains that the traditional perimeter-based security approach is no longer sufficient due to the increasing complexity of cyber threats. Zero-trust security, which assumes no trust within or outside the network, is recommended as a more effective strategy for protecting sensitive patient data. The article highlights the benefits of adopting zero-trust principles, such as continuous monitoring, user authentication, and data encryption, to mitigate the risks associated with healthcare data breaches.

Featured Articles on Analytics Leadership and Talent
Data Science and Engineering With Human in the Loop, Behind the Loop, and Above the Loop (Harvard Data Science Review)

The article explores the concept of "human-in-the-loop" (HITL) in the context of data science and engineering. It emphasizes the indispensable role of humans in advancing these fields and highlights examples such as automated highlights generation in cricket and the importance of software engineering practices. The article also discusses the significance of data science managers and their role in leading collaborative projects effectively.