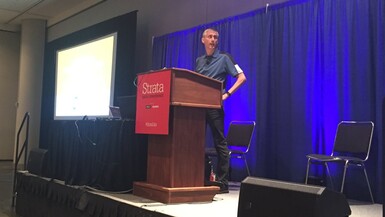 Last week, IIA attended the O'Reilly Strata Data Conference (@StrataData) in New York City. The conference tagline was "Make Data Work" and it provided a comprehensive overview of continued innovation in the big data and analytics ecosystems.
Session topics ranged from technical discussions on specific data, analytics and AI technologies to more general team management and business strategy. The conference continued to feature a dedicated series of business sessions organized into the Strata Business Summit and dedicated full day track covering the financial services industry called Findata Day.
IIA's Bill Franks was one of the featured speakers for the Strata Business Summit. His presentationAnalytics Maturity: Industry Trends and Financial Impacts featured IIA's original analytics maturity and company performance research.
The Wednesday (9/12/18) and Thursday (9/13/18) morning keynotes showcased a variety of thought leaders covering a wide range of topics including the following top 7 highlights:
Vendors continue to build out infrastructure and services for enterprise analytics and AI adoption and Google, Intel, MapR, Cisco, MemSQL and Cloudera all gave keynote presentations highlighting some of their latest offerings. Three new vendors were featured in the first Strata Data Awards which were given in three categories: Most Disruptive Startup (TigerGraph), Most Innovative Product (Dow Jones DNA) and Most Impactful Initiative (Vertica). TigerGraph is "a fast graph analytics platform designed to unleash the power of interconnected data for deeper insights and better outcomes." Dow Jones DNA is a "Data-as-a-Service platform providing access to fully licensed news and derived data to support data scientists and application developers in their advanced analytics and workflow initiatives." Vertica provides a "unified analytical database that supports all major cloud platforms, all popular data formats and features advancements in in-database Machine Learning."
As the pace of big data, analytics and AI innovation continues to accelerate, analytics leaders must look outside their organizations to track developments in these technologies and to understand how these developments may impact their organizations and the customers they serve. Conferences like the O'Reilly Strata Data Conference are excellent sources of insight as they bring together all of the key constituents of the big data, analytics and AI communities. IIA will also continue its ongoing coverage of these important conferences with client-only phone briefings and event summaries.