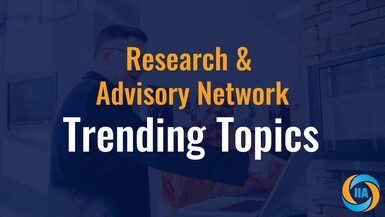 Welcome to this month's trending topics update!
IIA is in the fortunate position of working with some of the most influential Fortune 1000 analytics teams. On a daily basis we partner with these teams to accelerate the progress on their most pressing projects and initiatives. Collectively, we've worked with these analytics professionals on a couple thousand different topics over the years and thought it could be helpful to the broader analytics community to begin sharing some of those topics.
Last month we reviewed two topics and you can check them out here:
How to move a BI demand from your business partners to an Advanced Analytics demand

How to apply a prioritization to projects to align with business value while creating an innovative team environment by working on new projects
So for this week, without further ado…
Topic 1:
Developing a future-state for your data program because your biggest present issue is that your demand-side (i.e. your internal customers) processes are not set up to consume what you provide.
Summary: This is usually a bit of a "tough love" conversation for us with clients that perhaps are more focused on the solution than the problem. Before you can move on to the future state, you need to remediate what you've already built to work with the internal customers' current state. Oftentimes, clients find that their internal emphases in the analytics teams are biased towards model building rather than business understanding. Working on this means changing your perspective to a demand-side orientation.
Shift away from starting with supply-side questions such: How will we source the data? Is it of sufficient quality? Do we need new data sources? Is the data accessible?

Shift toward demand-side questions: What are the expected business outcomes? What do the internal customers want to achieve? What systems do they have in place now? What is the context of use?

Characterizing the expected outcomes and understanding the context of use is an essential capability for any advanced analytics team. It's critical to have a process for identifying the demand problem, characterizing the solution, and servicing that demand. So, instead of sitting in a room discussing what the future state should be with regards to data architecture, team skills, technology, and so on, focus on building a world-class demand capability. Let demand determine what the future state needs to look like.
Topic 2:
What are some best practices with an enterprise-wide Tableau rollout to thousands of users as part of a strategy for BI and self-service?
Summary: Widespread accessibility increases awareness, which leads to higher utilization (and increased cost). But don't be tempted to use utilization as a metric of success because it doesn't take into account whether the reports generated are useful for decision making. The new tool must add value, save time, or improve decision making for your key groups.
Although hard to quantify, perceived value/benefit to the user is more important as a success indicator than utilization metrics. And if awareness is low, then you'll need to change content, increase training, or improve the data itself.

Positive adoption requires content that is relevant to users and getting that right requires research before you begin development.

Understanding the true needs of each user group at a low level of granularity is critical. Focus first on a sub-set of initial users. It helps to divide the whole into broad groups based on their needs.
Think about demand for data from the user perspective and work backwards based on how it will be used for decision making.

Sometimes organizations get stuck because they assume that all data needs to work together, but this is only true to the extent that the end user needs it to work together.

Too much data can be harmful. Having wide access to a wide array of data and applications can make it hard for users to understand what information is useful for them and find it.
These couple may not track with what you're working on, but hopefully are interesting to see what others are up to in this small community of analytics professionals that we all work in.
Till next month!
— Doug
Doug Mirsky, PhD, Vice President, has been with IIA for 4 years and leads IIA's Research and Advisory Network (RAN) service line. IIA's RAN provides clients with access to the world's largest analytics-focused expert network; a resource designed to accelerate analytics teams' progress against their projects and initiatives. Doug has over two decades of executive and business strategy experience with hyper-growth companies focused on financial services, healthcare and technology.