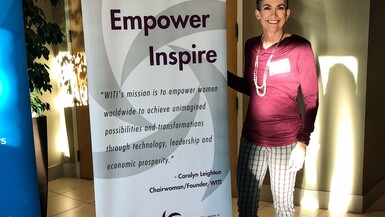 I attended the Women in Technology International meeting featuring a panel discussion on the "Future of Data Analytics" and it gave me great hope for the future of the practice of analytics. The format was audience Q&A and the three panelists – Rehgan Avon, Katie Sasso and Kristen Stovell – provided great information to questions across a wide range of topics including machine learning, educational resources, responsibilities of data scientists, and managing big data.
The event was held at the headquarters of IGS Energy and almost half of the audience was interested in entering the field of data science. The audience was equal parts women and men. Each of the participants described her path to her current role and each took a different route. It was enlightening to see how different educational backgrounds and work experiences can lead to a role in data science.
Avon mentioned that her "passion for understanding the unknown" was what led her into the profession. Her educational background is in Industrial & Systems Engineering with a specialization in analytics. She mentioned that she always enjoyed coding, statistics and math. One way she developed a broad view of the industry and analytic technology by watching YouTube videos on analytic functions and technology. Currently, she is a Product Manager with Open Data Group working to ensure companies fully realize value from Machine Learning. In her spare time, she is a data science instructor with Cognitir and, founded and continues to coordinate Columbus's annual Women in Analytics conference.
Early in her educational career, Sasso thought she would pursue a career in academia. She worked in the quantitative lab as a freshman while pursuing her Psychology degree, with a plan to pursue a PhD in Clinical Psychology. Her work in the lab exposed her to statistics, experimental design and academic literature. As she pondered her career choices, the flexibility in places to live, combined with the ability to see direct benefit of her work led her to working in the private sector, rather than academia. After working as a graduate research associate at Nationwide Insurance's Center for Advanced Customer Insights, she now works as a data scientist with the Columbus Collaboratory, a rapid innovation company that delivers value through data science and cybersecurity solutions. She noted that the key to a successful data science team is a combination of curiosity and conversation.
Stovall's route to a data science role is very similar to many current practitioners. Her interest in analytics led to a role in demand forecasting which then provided an opportunity to create an enterprise analytics team at her current employer IGS Energy, a provider of natural gas and electricity supply to homes and businesses. The team brought together many data scientists that were embedded in different functional groups, a path many organizations make during their analytic maturity progression. It was created to ensure people at IGS can make better decisions.
It was interesting to hear Stovall describe the three roles on the enterprise analytics team at IGS:
Data scientists build predictive models

Business liaisons understand the problem to solve and define success criteria

Data analysts provide descriptive analytics and test the models built by the data scientists.
Stovall noted that this model creates diversity of thought and responsibility and requires cross-team coordination to execute.
The panel discussed ways to help retain data scientists:
Allowing individuals to work on a variety of challenges

Collaborative team structure and process

Access to thought leaders—internal and external

A weekly colloquium to review research papers and emerging concepts

Diversity in background and thought

An environment that feels like an academic lab with time to create so top talent can learn and acquire new skills
Sasso shared with the group a number of resources she recommends to develop and enhance data science skills:
And a number of local meet up groups based on different languages/disciplines such as python, digital analytics and machine learning
There was a discussion on the different roles involved with data science and data management. Avon summarized them in a very clear and succinct way:
Data scientists understand relationships within the data and develop algorithms to exploit the value of the data

Data engineers understand the physical features of the data, so they can optimize its transportation across the infrastructure

Database administrators understand the physical features of the data, so they can optimize its storage within the infrastructure
Studies show that only 26% of data-related jobs are held by women. The panel showed that there are multiple ways to enter the field and a number of ways to develop new skills, several from resources that are specific to women. It was so encouraging to see such passionate and knowledgeable practitioners willing to share their expertise with others who are in the field or looking to enter it.