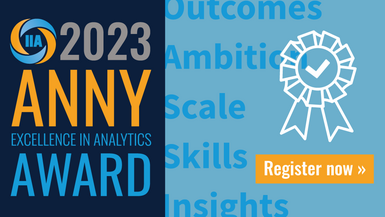 Join us for our annual awarding of the Excellence in Analytics Award (ANNY) on October 24! Our finalists will take the virtual stage to share their methodologies, results, and the incredible impact their projects have had on their organizations before we reveal our 2023 ANNY Award winner. Prepare to be inspired by the real-world applications of advanced analytics, as these organizations showcase their journey towards data-driven success. Previous winners include Proctor & Gamble, Ford, Honeywell, and most recently, Echo Global Logistics.
First awarded in 2012, the ANNY Award recognizes data and advanced analytics teams who have made profound changes on their organizations by applying advanced analytics to the most pressing and impactful business problems. Each year, IIA's esteemed panel of independent judges narrows the long list of applications received to three finalists and the winner is announced during our annual ANNY Award Showcase.
The ANNY is a unique award in the field of data and analytics. It celebrates the implementation of complex analytics initiatives at large, sophisticated organizations, and the progression of analytics programs as a result of the project's success. The spirit of the ANNY is about driving business value as an analytics program as opposed to calling out individual leaders.