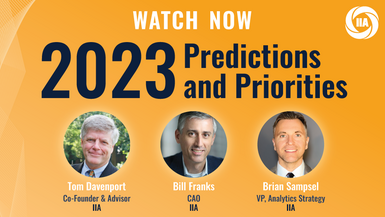 As organizations faced yet another year of whiplash – from post-pandemic planning to an unpredictable global economy – data and analytics leaders and their teams must consider what lies ahead for the benefit of their function and the business. Join Tom Davenport, Bill Franks, and Brian Sampsel, in IIA's tradition of predicting key trends that will drive the industry in 2023.
In this session, IIA's panel of experts:
Reflect on 2022 prediction and priorities and highlight the wins and (yes) the misses
Deliver five predictions and action-oriented recommendations for the coming year
Share exclusive guest predictions and priorities for 2023
The research brief for which this webinar is based on is now available for free download here.