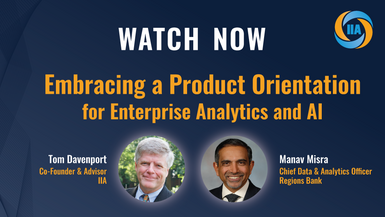 Overview
The research is overwhelming: The vast majority of analytics and AI models intended for internal consumption don't get deployed. This die-on-the-vine feature (or bug?) of enterprise analytics impacts the economic value of AI investments and morale of your data science team. Now, organizations are beginning to adopt many of the activities and behaviors used with software and data products; and they are applying them to analytics and AI that may have never been seen by or sold to customers. With this product thinking approach large analytics and AI projects can thrive.
Join Tom Davenport and Manav Misra as they break down the benefits of a product orientation for enterprise analytics and AI. They will discuss why a product orientation is necessary, what needs to be managed, and dissect Misra's approach and best practices at Regions Bank in building and deploying analytics and AI products for internal business partners. As Misra notes, "Enterprise software companies can't hand something half-baked to an enterprise customer. In consulting I saw that most analytics teams only build a model, and they don't generally focus on its deployment. At Regions, I didn't want to fall into that trap."

Speakers
Tom Davenport, Co-Founder & Advisor, IIA
Tom Davenport is a co-founder and advisor of IIA. He is the President's Distinguished Professor of IT and Management at Babson College, a research fellow at the MIT Initiative on the Digital Economy, and a Visiting Professor at Oxford's Said Business School. Tom's "Competing on Analytics" article was named by Harvard Business Review as one of the ten 'must read' articles in HBR's 100-year history. His most recent book is The AI Advantage (MIT Press), and he has three books on different aspects of AI coming out in 2022.
Manav Misra, Executive Vice President, Chief Data and Analytics Office, Regions Bank
Manav Misra is the Chief Data and Analytics Officer for Regions Bank and serves on the company's Executive Leadership Team. Regions is a regional bank that operates throughout the South, Midwest and Texas and is headquartered in Birmingham, Ala. Misra is responsible for overseeing the company's data strategy and enterprise data governance and leveraging data and analytics for improving the customer experience, enhancing risk management and driving revenue growth across the businesses. Prior to joining Regions in late 2018, Misra was the Chief Data Science Officer for CenturyLink from 2014 to 2018, leading a geographically distributed team focused on solving big data problems for customers using machine learning/AI & statistical techniques. He also was Chief Knowledge Officer/Chief Science Officer for Cognilytics, Inc., a company he co-founded, from 2009 to 2014, before CenturyLink acquired it. He was Chief Operating Officer for XProtean, Inc. from 2007 to 2009 and was co-founder, VP.
Related Content: