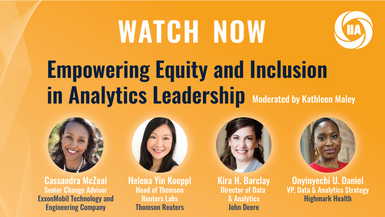 It's one thing to promote an inclusive culture. But how do you actually live it? The tech field, in particular, has rightly been challenged to create more equilibrium between men and women at the level of leadership. And while research suggests the data and analytics space is the most diverse among technology professions, there is still a lot of ground to be gained in supporting women along the path of D&A leadership. Prioritizing gender equity means prioritizing diversity in thought, communication styles, experience, and perspectives in data and analytics.
In this interactive panel discussion, top female analytics leaders converged to discuss the impact of mentors, sponsors, and male allies to their career evolution, as well as strategies in building diverse talent pipelines and equity into your recruiting DNA. The group also explored next steps for diversity in D&A leadership and actions we all can take to address these gaps – and whether a business case is the best case to make to move the needle in this conversation.
Speakers
Cassandra McZeal

Cassandra McZeal currently serves as Senior Change Advisor for the newly formed ExxonMobil Technology and Engineering Company, where she is part of the strategy and planning group responsible for the successful startup and implementation of the new organization. Since joining ExxonMobil in 2000, she has worked on mathematical optimization models for oil and gas investment portfolio planning and management, led the Visualization and Workflow Integration team, served as a skill area advisor for computational and applied mathematics capability, been the senior advisor for the Computational Methods section as well as the Computational Methods section supervisor. Finally, her last role before her current was as the Computational and Data Sciences Manager responsible for that capability across the ExxonMobil upstream sector.
Cassandra holds a Bachelor's degree in mathematics from Southwestern University and a Master's and PhD from Rice University in Computational & Applied Mathematics. She's volunteers for her alma maters as a member of the Southwestern University Board of Trustees and a member of the Rice University Engineering Advisory Board. Cassandra lives in Houston and has two adult daughters, Madelyn and Lena.

Helena Yin Koeppl
Helena is a senior data science and analytics executive with 25 years of professional experience. She has long history of building analytics organizations globally for several world-leading companies across several major industries.
Helena is currently Head of Thomson Reuters Labs world-wide. She leads a global team of data scientists, engineers, and designers to deliver cutting-edge AI enabled innovations for Thomson Reuter´s products in Legal, Financial and Information Services. Previously she led Data Science & Advanced Analytics organization for Bayer Pharmaceuticals globally for 4 years, leveraging AI and Machine Learning to optimize outcome for patients. Before that, using her unique expertise in bridging the important junction of business and data science and technology, she had also designed and implemented to success multiple large-scale data and analytic transformations for Johnson & Johnson and Procter & Gamble globally.
Although originally from Singapore, Helena has worked and lived in several countries across Europe for the past 21 years. She's currently based in Switzerland with her family.

Kira Barclay

Kira H. Barclay is Director of Data & Analytics at John Deere, overseeing the Data and Analytics function for the organization. She leads a team of data, analytics, and product professional whose mission is threefold: curate and supply customer data; generate actionable insights to drive sales, improve the customer experience, and make better and faster decisions; and advance data and analytics capabilities at John Deere.
Kira's career with John Deere began at John Deere Financial as an intern in Risk Analytics. Throughout her tenure, she's held positions of increasing responsibility in Risk Analytics, Pricing & Incentives, and Strategy across multiple divisions of the organization. She most recently served as Director of Analytics for John Deere Financial.
Deere & Company (JohnDeere.com) is a world leader in providing advanced products, technology, and services for customers whose work is revolutionizing agriculture and construction — those who cultivate, harvest, transform, enrich, and build upon the land to meet the world's increasing need for food, fuel, shelter, and infrastructure.

Onyinyechi Daniel
Dr. Onyinyechi U. Daniel is the Vice President of Data & Analytics Strategy and Partnership at Highmark Health, where she is responsible for development and maintenance of the Data & Analytics Strategy and alignment with enterprise business priorities. She also has accountability for internal and external strategic partnerships, including research relationships with Carnegie Mellon University, Johns Hopkins and other institutions. She is also accountable for developing the enterprise Data/AI Ethics strategy and operationalization plan along with analytics governance. She is passionate about the application of data and analytics to drive evidence-based health outcome improvements and address health inequities and leads the enterprise SDOH and Health Equity data strategy. Prior to Highmark, Dr. Daniel was the Senior Director of Data & Analytics Strategy at Health Care Service Corp. She has also had prior professional experience managing Data Operations at Change Healthcare.
Dr. Daniel holds Masters degrees in Medical Humanities and Bioethics and Health Policy & Administration from Northwestern University and University of Illinois at Chicago School of Public Health respectively.
She also holds a PhD in Health Policy and Administration with a focus on Public Health Informatics, and Health Economics from the University of Illinois at Chicago School of Public Health, where she is also an adjunct instructor. She serves as a member of the Board of Directors for Sinai Health System in Chicago, a network of 4 hospitals, 17 community clinics, 1 community institute, and 1 nationally recognized research institute all serving communities on Chicago's West and Southwest sides. In addition to board service, she is a member of the Institute of Physician Diversity, an executive group tasked with increasing the number of physicians of color throughout the medical school and physician faculty pipeline. She resides in Chicago, IL with her husband and three young children, where they enjoy cultural activities, outdoors adventures and Premier League football.

Kathleen Maley

Kathleen Maley is a business leader specializing in the science of data and analytics. She is a cultural change agent in the adoption of analytical strategies and guides business leaders toward better outcomes by integrating data into their business processes. Fortified with 15+ years of success, her passion is now found in helping organizations leapfrog her early experience to accelerate their journey toward value-generating analytics.
Kathleen started her career on the leading edge of a revolution in data-based decision-making at Bank of America. She built predictive models, ran a model risk management group and led several business-analytics verticals. In her culminating role as the bank's consumer deposits pricing executive, she transformed the business from intuition-based to predictive model-based, creating an efficiency of $65 million per basis point saved.
As the head of consumer and digital analytics at KeyBank, Kathleen increased the economic impact of her team by elevating their role from data provider to strategic partner. She established a discipline for measuring realized benefit of analytically informed business initiatives and engineered a shift toward collaboration, ensuring analytical solutions are developed hand-in-hand with business execution plans.
Kathleen is a board member and volunteer statistician for Turner Syndrome Society of the United States, a published writer and frequent speaker. She holds degrees in Mathematics and Applied Statistics. Previously, Kathleen taught high school mathematics and statistics in Costa Rica, Mexico and China.