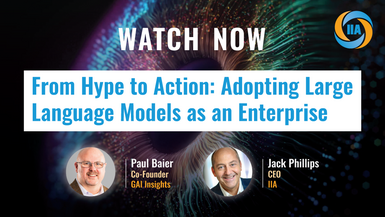 In IIA's 2023 Predictions and Priorities, we made the claim that large language models and generative AI would grow exponentially over the next year. But not even our experts could have imagined the grip LLMs would have on corporate executives and consumers alike at the midpoint of 2023. Surely, this buzz feels different and now it's time to test and learn LLM technologies to propel enterprise-level data and analytics initiatives forward.
This session explores critical questions, considerations, and early-stage best practices for D&A leaders and their teams as they investigate using LLMs to gain insights on internal data. Session takeaways include:
Strategies for safely incorporating large language models into enterprise workflows, considering risk exposure and compliance requirements.
Techniques for validating the reliability and rationality of insights derived from ChatGPT and related technologies, ensuring confident decision-making.
Exploring alternative AI and ML tools alongside ChatGPT to enhance enterprise capabilities and stay abreast of emerging technologies.