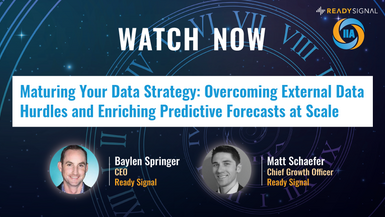 Are you struggling to integrate external data sources and build trust in your predictive forecasts? For many enterprises, data and analytics maturity means taking strides in normalizing and scaling alternative data sources, as well as better engagement between D&A leaders and key stakeholders to build a comprehensive data strategy.
This interactive session with experts from Ready Signal explores strategies to mature your data integration and decision intelligence processes. Session takeaways include:
Evolving your data strategy and the importance of alternative data.
Overcoming challenges in building quality alternative data sources into analytics workflows and predictive models.
Real-world use cases in scaling external data sources to optimize cost and maximize business value.