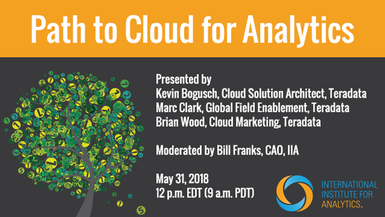 In today's data-fueled world, organizations are increasingly looking to the cloud for analytics to help accelerate time-to-value, spin up resources at will, and reduce financial risk while enabling in-house talent to focus on value-add.
The path to cloud is rarely straight and wide, however, and a number of factors affect each company's journey:
Data gravity and migration

Network connectivity and latency

Use cases, culture, skills, and expectations
Tune in to this exciting webcast to hear three cloud experts – an architect, an advocate, and an evangelist – engage in a lively, free-flowing conversation about the many considerations when moving analytics into the cloud. One thing's for sure: you'll pick up new knowledge and get a fun, fresh perspective on one of the hottest topics of our era.