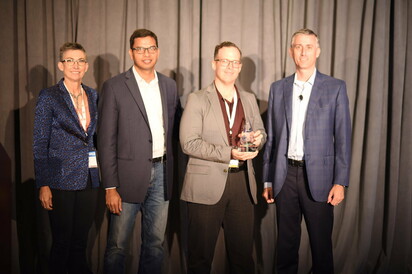 The International Institute for Analytics (IIA), the leading independent analytics and data science research and advisory firm, named Honeywell the winner of the 2018 ANNY Excellence in Analytics Award at IIA's Analytics Symposium in Atlanta.
Honeywell's Aerospace division won the Excellence in Analytics Award for their Dynamic Value Pricing initiative.
"Honeywell's Dynamic Value Pricing project stood out for its impressive measurable business impact," said IIA Chief Analytics Officer Bill Franks. "Congratulations to Honeywell Aerospace's innovative analytics team."
All applicants completed on the five key areas that determine an analytics project success: outcomes, ambition, scale, skills, and insights. Franks led a panel of judges who examined each application and cast anonymous ballots.
The other three finalists for the 2018 ANNY were Freddie Mac, HDFC Bank, and Steelcase spoke on stage with Honeywell at the Analytics Symposium sharing key learnings from their projects. Honeywell now joins the ranks of previous years' winners that include Cisco, Caterpillar Inc., Procter & Gamble, and UnitedHealth Group for being thought leaders in the analytics space.