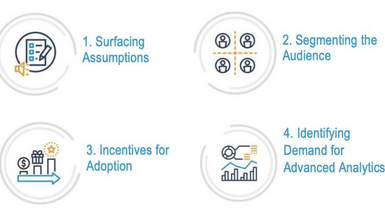 Self-service is best characterized as a broader business effort to continue the maturation of your enterprise analytics by identifying more and better business challenges against which to apply advanced analytics techniques.
The road to self-service will require flexibility, agility, and resilience as you both incent and compel the demand side to embrace these efforts. To find success with self-service initiatives, IIA recommends leveraging a four-element framework:
Surface Assumptions: Identify and classify the underlying assumptions about the self-service effort and ground it in an explicit, publicly declared and validated rationale.

Segment Audience: Segment the user audience to understand who this effort is designed to benefit and whether or not your constituents are ready and willing for this self-service effort.

Incentives for Initiatives: Establish an incentivization structure that favors a defined cutover period and developing explicit incentive schemes for each segment.

Identify Demand for Analytics: Once you have enabled your demand side to self-service, you must turn your focus to enabling an advanced analytics program by looking for saleable wins.
Download this free IIA eBook to gain unbiased insights about the four elements of a successful self-service framework and about project prioritization of self-service efforts based on attributes of business value, likelihood of success, and innovation.
Full clients of IIA also have access to a comprehensive research brief, written by data analytics thought leaders, with actionable insights on establishing a self-service program. Clients have direct access to the experts, thought leaders and practitioners that developed this research.