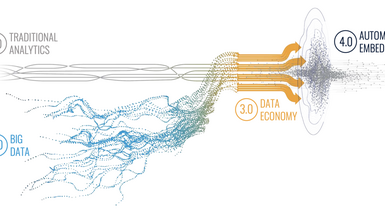 Building on its predecessor, Analytics 4.0 marks a point when organizational culture allows for the embedding of finished-product advanced analytics into decision flows and operational business processes.
Centered upon the most prized commodity of our time, data, IIA envisions Analytics 4.0 - automated, embedded analytics - as a crucial phase in the evolution of advanced analytics. However, for enterprises to leverage the power of Analytics 4.0 to impact business success and evolve to truly automatic and embedded analytics, they must understand the previous stages that led to this point.
Analytics 1.0: Traditional Analytics - From the 1950s to mid 2000s, analytics were based on some form of reporting and were segregated from business decision-makers and marginal to business strategy, even among enterprises who recognized the potential of analytics.
Analytics 2.0: Big Data - At Internet-based and social network firms, big data and analytics informed internal decisions and formed the basis for customer-facing products, services and features. However, more traditional enterprises had to reconcile and integrate big data with more traditional sources of data and IT infrastructures. Data scientists began to demand a role in shaping business strategy.
Analytics 3.0: Data Economy - By blending big data and traditional analytics, Analytics 3.0 yielded insights and offerings with speed and impact. With faster big data technologies, new agile analytical methods and machine learning techniques produced insights at a faster rate. The role of Chief Analytics Officer became essential to managing diverse data science, analytics, and IT teams while simultaneously working with business decision makers.
Analytics 4.0: Automated & Embedded - Analytics is fully embedded, but invisible and automated, in business tasks. Two forces - impedance within organizations and acceleration of automation capabilities - have jointly created an environment in which embedded and automated advanced analytics have become the dominant focus of forward-thinking organizations intent on competing on analytics. New roles, like catalyst, data sociologist, data engineer, and automation specialists, are necessitated by increasing dependence on data analytics.
Download this free IIA eBook to gain insight about the history of the four stages of analytics development, which can inform your efforts to evolve into a more advanced analytics organization. Full clients of IIA also have access to the experts, thought leaders and practitioners that developed this research.