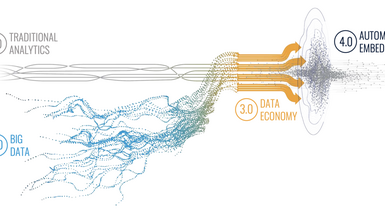 Building on its predecessor, Analytics 4.0 marks a point when organizational culture allows for the embedding of finished-product advanced analytics into decision flows and operational business processes.
IIA sees Analytics 4.0 – automated, embedded analytics – as a crucial phase in the evolution of advanced analytics. A transition to routinely-embedded analytics will reveal, for every enterprise, the extent to which its decision-making is fundamentally algorithmic. The era will also reveal the residue of truly heuristic decisions that require human involvement, orchestration and judgment, augmented by AI, not replaced by it.
Nagging questions about model bias and blindness will now require a new role to "socialize" the power and pitfalls of truly automated and embedded analytics.
This ebook explores the four eras of analytics any why transitioning to Analytics 4.0 - Automated and Embedded Analytics - will be vital for organizations moving forward. IIA services are designed to help organizations make this difficult transition.