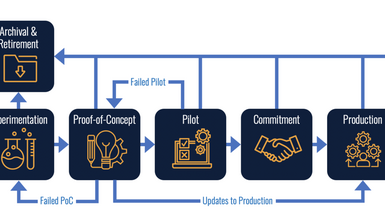 An analytical application combines data and computationally-intensive logic – coded by machines or people – to produce a mechanism for predicting future states, or prescribing actions in the present, that are demonstrably valuable to a business beneficiary.
An analytical application lifecycle model is a framework for analytics organizations to engage relevant internal partners in stage-appropriate discussions, to accelerate the delivery of value-bearing analytical applications to business constituencies.
Download the eBook to learn more.