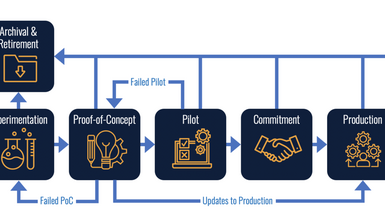 An analytical application combines data and computationally-intensive logic to produce a mechanism for predicting future states, or prescribing actions in the present, that are demonstrably valuable to a business beneficiary. An analytical application lifecycle model is a framework for analytics organizations to engage relevant internal partners in stage-appropriate discussions in order to accelerate the delivery of value-bearing analytical applications to business constituencies.
Download this free IIA eBook for step-by-step insight into the seven stages of an effective framework for developing an analytics application lifecycle, including:
Ideation
Experimentation
Proof of Concept
Pilot
Commitment
Production
End of Life
This IIA eBook reveals a framework for determining specific activities that should occur at each state of the analytics application lifecycle; identifying the decision makers who should influence decisions at that particular stage; and evaluating how constituents can progress from completion of a stage in the lifecycle to the next stage.
Full clients of IIA also have access to a comprehensive and actionable research brief on the Analytics Application Lifecycle Framework as well direct access to the experts, thought leaders and practitioners that developed this research.