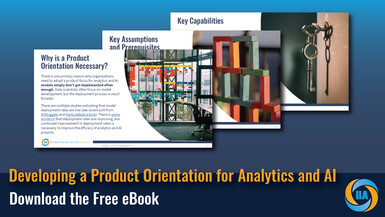 There is one primary reason why organizations need to adopt a product focus for analytics and AI: models simply don't get implemented often enough. Data scientists often focus on model development, but the deployment process is much broader. There are multiple studies indicating that model deployment rates are low and improvements in deployment rates are necessary to improve the efficacy of analytics and AI projects.
Experts at IIA put together this eBook that provides a look at the steps and strategies to develop a robust product orientation for analytics and AI projects. The eBook covers:
Why a product orientation is necessary
The tasks involved in analytics and AI product management
A glimpse into a case study on product orientation at Regions Bank
The key prerequisites and capabilities to establishing a successful product orientation
Full clients of IIA also have access to a comprehensive research brief with actionable insights. Clients also have direct access to the experts, thought leaders, and practitioners that developed this framework.