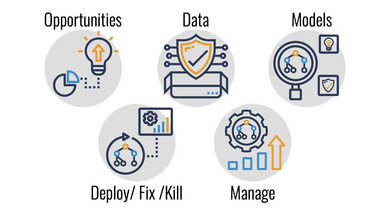 Operating Models Are Like Diets
Everyone eats and so everyone has a diet. Some people, however, are more intentional in their diet, which can lead to better long-term outcomes and a healthier end result.
This is true of analytics operating models as well. Every firm that delivers analytics has an operating model, but few take the time to examine and improve theirs.
This eBook outlines the five components of an analytics operating model and the key benefits of evaluating your analytics operating model. It offers actionable questions to help you establish frameworks for:
Prioritizing analytics opportunities with limited resources and talent

Identifying and managing data challenges

Evaluating whether you have the right models in place to address the defined opportunities

Expanding perspectives on deploy/fix/kill decisions from business, data, and technology angles

Refining models to ensure they are both relevant and effective
Download this free eBook now to get access to these insights. Full clients of IIA also have access to a comprehensive research brief that includes four case study examples, with scored questions and a tool to score your own use cases and evaluate your operating model across the five elements. Clients also have direct access to the experts, thought leaders, and practitioners that developed this research.