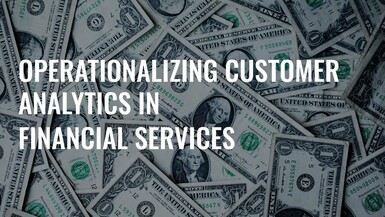 In financial services, customer analytics are a big deal and getting bigger. Customers are commonly the focal domain for new analytics development. One of the analytics leaders interviewed for this research serves the entire enterprise — while reporting to the chief marketing officer, who represents the biggest stakeholder and internal customer in the firm.
Financial services organizations have long been at work developing customer data with the goal of building a 360- degree view of customers and relationships across channels, then analyzing that data to improve services, product offers and marketing campaigns. So why the emphasis on customer analytics today?
This paper explores the processes and success factors for operationalizing customer analytics by drawing on the experiences of four varied financial services institutions: a large credit union, a full-service bank with strong focus on retail customers, and two firms focused on small and growing business customers. We'll profile each and then look across them for commonalities and lessons learned.