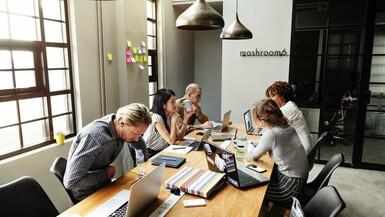 Companies that think strategically about analytics achieve the biggest impact from analytics. To realize the full potential that analytics offers, don't overlook the importance of the way you organize your analytics team. Here are three key factors to consider:

Analytics has the power to reshape how we do business in today's data economy, moving away from the risks and unpredictability of operating on instinct, and toward data-driven decision-making.

Businesses that recognize the power of analytics must coordinate, consolidate, or centralize analytics for success.

Organizing for analytics makes it possible to develop analysts effectively and use analytics where it creates the most business value.
Download this free IIA eBook to gain unbiased insights about six organizational structures that might work for your analytics organizations, including functional analytics; centralized analytics; consulting analytics; analytics center of excellence; federated analytics; and decentralized analytics. Each model includes an org chart, strengths and weaknesses of that model, examples of who uses this model, and key considerations for implementing this model.
Full clients of IIA also have access to a comprehensive research brief with actionable insights on identifying and implementing the best organizing model for your analytics team. Clients also have direct access to the experts, thought leaders, and practitioners that developed this framework.