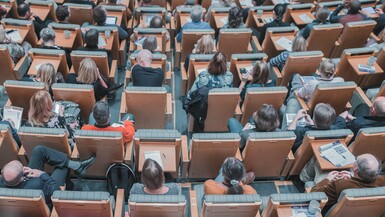 In April's post, I discussed how university internship programs are adjusting to COVID-19 implications and how students and companies may still find some success in this new environment albeit with some adjustments. This month, I decided to focus on the analytic innovation occurring at universities and highlight some of the interesting data and analytics work that has either been inspired by COVID-19 or projects that have been accelerated to meet the immediate needs COVID-19 has created. Universities have a deep history and tradition of experimentation and as the world looks for answers on how to manage COVID-19, there seems to be an innate feeling of trust and reliability in solutions developed within universities. Here are some examples of innovation at work.
Dashboard Reporting and Predictive Models
Johns Hopkins Center for Systems Science and Engineering (CSSE) and the University of Washington Institute for Health Metrics and Evaluation (IHME)
In terms of tracking the spread of COVID-19 and anticipating peak dates for resource usage and expected hospitalizations, the two universities that have received broad recognition and have been cited consistently as reliable resources are Johns Hopkins University and the University of Washington. NPR reported on the backstory and team at Johns Hopkins Center for Systems Science and Engineering (CSSE) and the impetus to begin tracking COVID-19 in January 2020. Fashioned after an older dashboard used to track measles risk, the COVID-19 dashboard has been visited by well over 200 million people and is recognized by many resources as one of the top dashboards in the world tracking the disease. As COVID-19 has evolved, the team continues to work diligently on the report, ensuring that existing information is maintained daily and as new data is available, it can be evaluated and piped in.
Meanwhile, in mid-March 2020, researchers at the University of Washington's Institute for Health Metrics and Evaluation (IHME) designed an analysis to assess when hospitals would become inundated with COVID-19 cases. The dashboard has been cited frequently by the White House as a primary resource for hospital systems and government leaders to utilize and ascertain when hospitals and care centers may face shortages of hospital beds and ventilators on a state by state basis.
Sensing System Mobile App: Cough Detection
Seattle Children's Hospital and the University of Washington Medical Center & Ubiquitous Computing Lab (ubicomplab)
As telehealth and remote patient monitoring (RPM) become more commonplace in healthcare, data and analytics will play a huge role in monitoring symptoms, detecting anomalistic behavior, and tracking and reporting findings directly to healthcare providers. One RPM project being tested at the University of Washington Ubiquitous Computing Lab (ubicomplab) has been fast tracked to aid in COVID-19 efforts. Initial research on cough sensing was first published in 2011 at the lab and researchers and data scientists (along with partners at Seattle Children's Hospital) are now developing a cough detection app that can "assist both patients and their medical providers monitor coughing while someone is recovering at home from COVID-19 or other diseases that cause coughing symptoms." (PBS) The app would be available on smart mobile devices and this innovative approach to remote monitoring is advantageous for a number of reasons and hopefully will inspire other projects and partnerships to create safe and effective remote experiences for patients and healthcare workers alike.
Contact Tracing Mobile App
MIT
Contact tracing is essentially tracking and monitoring individuals that have come in contact with an infected person so that they can be notified that they have been exposed and can self-quarantine to reduce the spread of the disease. Contact tracing can be an arduous, manual process with contact tracers interviewing people by phone to track activities and exposure and provide support resources to the individual. However, researchers are quickly moving to develop contact tracing apps that can be downloaded on a smart device to help alert people when they've been potentially exposed to an infected individual and guidance on next steps. Depending on what country you live in, the privacy laws in place, and technology available, there are dozens of apps currently tracking COVID-19. Australia launched its app in April and encouraged citizens to download the app to help mitigate risk and decrease the spread of COVID-19; within 24 hours, there were over 2 million downloads. Singapore's TraceTogether app was launched in March and has 1.4 million users, roughly a quarter of the population. Based on the data coming in for some of these apps, researchers have been able to make some observations on what's working and where there are some challenges with connectivity, etc. but the general sentiment is that some data is better than no data.
MIT is at the forefront of contact tracing work in the US and is "developing a system that augments 'manual' contact tracing by public health officials, while preserving the privacy of all individuals. The system relies on short-range Bluetooth signals emitted from people's smartphones. These signals represent random strings of numbers, likened to 'chirps' that other nearby smartphones can remember hearing." To make this system work, MIT is working with Google, Apple, and Microsoft to collaborate on the smartphone implementation and software requirements.
AI Voice-Enabled App
Arizona State University and Amazon
Setting aside privacy concerns and a number of potential issues (note: students did consent to participate in this trial), the AI voice-enabled app that Arizona State University has launched in partnership with Amazon could prove useful for remote learning among other things. Originally intended to be a campus resource for students living in a voice-enabled dorm, usage of the Amazon Echo Dot quickly exceeded expectations and prompted plans for other ways to integrate the Echo Dot such as implementing a 24x7 voice enabled AI tutor and creating voice-enabled programs throughout campus. By collecting and analyzing massive amounts of voice data, the team of Amazon Alexa developers and ASU students will provide university leaders with information to enable better data driven decision making as well as uncover new opportunities to enhance the university experience, something that will be critical as students may be engaging remotely for the distant future.
The notion that out of chaos comes opportunity and innovation could never be truer than what we are experiencing today. Rapid developments around vaccines, contact tracing apps, predictive models, factories re-tooling to produce PPEs, and technological advances to stay connected during this time of uncertainty are just a handful of examples. While the reality of COVID-19 has been beyond destructive and scary, one silver lining is that it is inspiring to see some of the innovative work being done to keep us healthy and safe. Do you know of a recent data and analytics innovation/unique solution emerge from a university the past couple of months? If so, please share!
In previous posts I have acknowledged newly elected civic Chief Analytics Officers or Chief Data Officers and this month, Los Angeles elected a new Chief Data Officer. Congratulations Jeanne Holm!
Lise Massey is the Program Manager for IIA's Analytics Leadership Consortium (ALC) and has been with IIA for six years. The ALC is a closed network of senior analytics executives from diverse industries who meet to share and discuss best practices, as well as discover and develop analytics innovation, all for the purpose of improving the business impact of analytics at their firms. Prior to IIA, Lise spent over 10 years designing, managing, and leading media analytics programs for a diverse portfolio of clients and has experience in many aspects of program and project management, account management, strategic and tactical planning, business development, and training. Lise is a graduate from the University of Oregon.
You can view more posts by Lise here.
Follow IIA on LinkedIn, Twitter and Facebook for more updates.