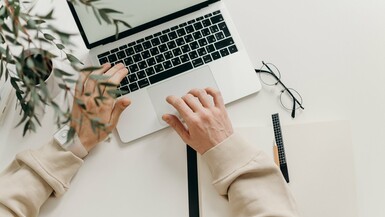 Here is a roundup of interesting sites, resources and articles from around the web, curated by IIA. April's edition features excellent articles on data quality, data infrastructure, data literacy, legal questions for data scientists and on how to apply product thinking to a range of analytics and data projects. There are also a couple of good articles on the movement to create organizational processes for the responsible use of AI. Follow us on Twitter (@iianalytics) and LinkedIn to receive daily updates on IIA content and curated content as it becomes available.
Featured Article from Analytics Leadership Consortium Newsletter
Each month, IIA's Analytics Leadership Consortium (ALC) publishes a newsletter featuring reviews of timely and relevant 3rd party articles. Here is one of the articles highlighted in a previous newsletter.
IIA's article summary:
The value of leading with analytics is so immense that the investments from VCs like ah(*), who wrote this piece, and the spending by large companies is driving enormous transformation in the full data pipe from ingestion to use. ALC members will see a lot of things they know here (most in fact), but it's unlikely you've seen it so thoroughly covered, layer by architectural layer. View the full article here.
IIA Recommends:
Look upon this article as a resource for your data analytics tech roadmap to see if you have ongoing efforts in each of these areas.
The authors imply different architectures depending on the mix of skill (fewer data scientists, ML engineers, etc) and ambitions (small predictive analytics or large-scale ML/AI), but IIA experts advise this is not so binary and teams can leverage tools from both reference architectures, driving the everyday needs with one set and more advanced needs with another.
Since this is written by a VC firm take the individual companies referenced in here with a massive grain of salt, since they likely have a sizable stake in the ones who happen to fill out the boxes.
Featured Articles on Analytics Strategy
Deployment As a Critical Business Data Science Discipline (Harvard Data Science Review)
This article explores the challenges in getting data science models deployed into production within organizations including evidence of the deployment problem, the components of deployment, and how some degree programs are trying to meet the challenge.
A Paradox No More: Investing in Automation and People (MIT Sloan Review)
This article explores how the continued growth in automation is driving a deeper appreciation for investing in learning and skills development for human workers.
Why IT Needs to Lead the Next Phase of Data Science (VentureBeat)
Nick Elprin, CEO Domino Data Lab, advocates that IT must take a larger role in creating scalable, reusable data science environments.
Data Literacy for the Data-phobic: 7 Things Beginners Need to Know (Venngage Blog)
This blog from Venngage provides a good overview of data literacy with compelling visualizations. The seven considerations covered include 1.) uncertainty is inevitable, 2.) there are various types of data, 3.) data sources matter, 4.) organization matters, 5.) data can tell many different stories, 6.) share data stories responsibly and 7.) you don't need to know everything.
Seven Legal Questions for Data Scientists (O'Reilly Media)
While analytics can deliver significant business value, it can also cause reputation, legal and regulatory challenges. This article poses seven legal question areas for any analytics solution including fairness, privacy, security, agency, negligence, transparency and 3rd party access.
The Maturation of Data Science (Datanami)
A review of how data science has overcome reproducibility challenges and is moving toward a better, more professional and predictable future.
Why We Need More AI Product Owners, Not Data Scientists (Towards Data Science)
This article outlines the difference between AI products / solutions versus other products / solutions and advocates for more uniquely skilled AI product managers.
How to Make Dashboards Using a Product Thinking Approach (Shopify Blog)
Good insights on building better dashboards using a product thinking approach. Includes 3 steps for success: 1.) understand your problem and your audience, 2.) build the dashboard with your users in mind 3.) follow up and iterate on your work.
Featured Articles on Analytics Leadership and Talent
Top-Down Leadership for Data: Seven Ways to Get Started (Sloan MIT Review)
Leaders can initiate successful data strategies by focusing on data quality, building organizational capabilities, and putting data to work in new ways.
Top 10 Data Science Skills for 2021 (Open Data Science / Medium)
This article provides a good review of foundational and emerging data science skills including storytelling, visualization, GPUs, languages and domain expertise.
Featured Articles on Data and Analytics Technology
A Comprehensive Framework for Data Quality Management (Toward Data Science)
This article outlines a framework for monitoring and maintaining data quality to make sure the data meets certain standards for specific business use-cases. Framework includes data quality dimensions, metrics, processes and tools.
How to Measure Data Quality (Toward Data Science)
This article outlines 13 objective and subjective metrics for measuring data quality including accuracy, coverage, completeness, timeliness and usability.
Five Things All Execs Should Know About Technology (and Why it Matters More Than Ever) (Thoughtworks)
Five key things every executive should know about technology: 1.) Technology excellence matters, 2.) Digital talent is the key to your success, 3.) Invest in continuous delivery and DevOps, 4.) Build digital platforms and 5.) Move from project thinking to product thinking.
Featured Articles with Analytics Uses and Case Studies
Breaking Down Amazon's (Massive) Health Care Opportunity (OneZero / Medium)
An interesting article Amazon Care and its potential impact in the $4T healthcare market. Amazon Care will start by focusing on basic care and the patient experience but will be able to work its way up the value chain leveraging data and analytics.
How is AI Impacting the Insurance Industry? (Towards Data Science)
A good overview of how AI, IoT devices, telematics and geospatial imagery are poised to disrupt the insurance industry.
The Black Box of Justice: How Secret Algorithms Have Changed Policing (Fast Company)
Timely and important article on the use of data and analytics in policing.
Is Soccer Wrong About Long Shots? (FiveThirtyEight)
An interesting overview of new research arguing that soccer teams should take more chances from distance.
The Mathematics of How Connections Become Global (Scientific American)
This is an interesting Scientific American article on how the Percolation Theory illuminates the behavior of many kinds of networks, from cell-phone connections to disease transmission.
Featured Articles on AI
Managing the Unintended Consequences of Your Innovations (Harvard Business Review)
New technologies like machine learning and artificial intelligence have unintended consequences that responsible organizations must manage.
If Your Company Uses AI, It Needs an Institutional Review Board (Harvard Business Review)
Companies that use AI know that they need to worry about ethics. This article advocates that companies worried about the ethics of AI should look to the medical profession and adopt internal review boards (IRBs) composed of diverse team of experts to help review their AI initiatives.
5 Steps to Creating a Responsible AI Center of Excellence (VentureBeat)
In an effort to develop AI solutions that are fair, explainable, accountable, and robust, a number of companies are creating Responsible AI Centers of Excellence. This article walks through some best practices for creating such organizations.
An IBM AI Debates Humans—but It's Not Yet the Deep Blue of Oratory (Scientific American)
AI researchers continue to push AI into increasingly difficult challenges and this article explores how machine learning is starting to enter a realm beyond the defined rules of chess and Go.
The Foundations of AI Are Riddled With Errors (Wired)
New research indicates that many of the labels attached to images in ImageNet and 9 other libraries used to train machine-vision systems are often wrong. This could impact a variety of AI applications including self-driving cars and medical algorithms.
The Secret Auction That Set Off the Race for AI Supremacy (Wired)
In depth Wired article on how Google, Microsoft, Baidu, Facebook and DeepMind were racing to secure early and crucial neural network technology back in 2012.
Featured Resources and Blog Sites
4th annual AI report from Stanford University center for Human-Centered Artificial Intelligence. Report covers 9 key trends including advancements in AI driven drug discovery, growing Chinese influence and the concerns on ethical use.
10 charts that capture the growth and adoption of AI including job postings, corporate investment, ethics, student interest and national strategies.
Introducing the MAD (ML, AI, Data) Public Company Index
Mutt Turck and John Wu from FirstMark have created an interesting index of publicly traded "pure play" AI, ML and Data companies.
Featured News and Information Sites
The Sequence is a great weekly newsletter that discusses core ML concepts, summarize groundbreaking ML research papers, explores new frameworks and platforms and keeps you up to date with news from the field.
Toward Data Science is a great Medium site with wide range of articles covering data science, ML, programming, visualization and more.
Datanami is a news portal dedicated to providing insight, analysis and up-to-the-minute information about emerging trends and solutions in big data. It features a mix of vendor and independent thought leadership articles.
About IIA
IIA is the industry's leading source of insights and advisory services for companies transitioning to data-driven decision-making and advanced analytics.IIA continuously seeks out insights, information and experts to elevate our client's and our community's analytics expertise through two service lines.IIA's Research and Advisory Network (RAN) provides clients with access to the world's largest analytics-focused expert network; a resource designed to accelerate analytics teams' progress against their projects and initiatives. IIA's Analytics Leadership Consortium is a closed network of analytics executives from diverse industries who meet to share and discuss best practices, as well as discover and develop analytics innovation, all for the purpose of improving the business impact of analytics at their firms.