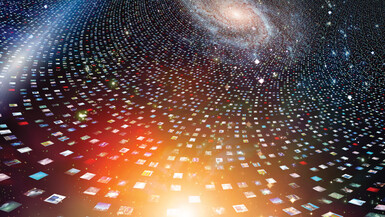 Read below for a roundup of interesting sites, resources, and articles from around the web, curated and contextualized by unbiased analytics experts at IIA. Highlights include articles about how to navigate having your analysis questioned, an inside look at Intuit's AI and Data operations, and how to implement a new approach to change management. Follow us on Twitter and LinkedIn to receive daily updates on IIA content and curated content as it becomes available.
"Article of the Week" from IIA's Normal Distribution
Each week, IIA's Normal Distribution email (sent to anyone that has filled out a form on our website or subscribed here) features timely and relevant third-party articles. Here are the articles highlighted in the "Article of the Week" from the August Normal Distribution emails.
What (Not) To Say When Your Client Questions Your Results (Towards Data Science)
If you work in analytics, eventually you will have to deal with a situation in which your findings are challenged. This article provides some great tips, exercises, and plans for preparing for these situations.
The author covers:
Practicing non-defensive responses
Gathering information in a challenging environment
Not taking a lifeline
Not being dismissive
How to be persuasive
An Insider's Look at Intuit's AI and Data Operation (InformationWeek)
Intuit is one of many companies that are pivoting to becoming an AI-driven platform company. InformationWeek interviewed Intuit's Director of Data Science to get an inside look at how the company is managing this massive overhaul.
How to Get Your Team on Board with a Major Change (Harvard Business Review)
While change management has evolved from its more simplistic form in the past, data shows that organizations are still extremely stubborn when it comes to adopting change. The researchers who wrote this article have found that the top 12% of effective change stories contained leaders who took particular care to ensure a sense of belonging among their co-workers.
The researchers explain why they believe this sense of belonging is so key to change management and four ways to drive change through belonging.​​
Featured Articles on Analytics Strategy
What is Disruptive Innovation (Harvard Business Review)
This pivotal article on the modern misunderstandings of competitive disruption came out in 2015 and still manages to be incredibly topical in 2022:
"For the past 20 years, the theory of disruptive innovation has been enormously influential in business circles and a powerful tool for predicting which industry entrants will succeed. Unfortunately, the theory has also been widely misunderstood, and the "disruptive" label has been applied too carelessly anytime a market newcomer shakes up well-established incumbents. In this article, the architect of disruption theory, Clayton M. Christensen, and his coauthors correct some of the misinformation, describe how the thinking on the subject has evolved, and discuss the utility of the theory."
9 Tips for Modernizing Aging IT Systems (InformationWeek)
"[M]ost in IT are charged with making old systems work for yet another budget period at production levels on par with the new systems they aren't allowed to buy."
So how do you best make do with an aging IT infrastructure? This article gives 9 insightful tips for modernizing older systems.
How Well Does Your Company Use Analytics? (Harvard Business Review)
This article offers a framework to help leaders assess and strengthen their current capabilities across seven dimensions:
Culture
Leadership commitment
Operations and structure
Skills and competencies
Strategy and analytics alignment
Proactive market orientation
Employee empowerment
Is Your Data Fit for Use? (Medium)
How do you know if your data is fit for use? This article covers the various data quality dimensions and metrics and how to best use and analyze them.
Featured Articles on Analytics Leadership and Talent
The Decline of Data Science Decline of Data Science (Medium)
There's been an industry-wide rebranding of Data Science jobs recently. This article discusses how and why they've changed:
"Data Science jobs still exist — they've just experienced a silent rebranding. Machine learning has been replaced with hypothesis testing; big data was replaced by SQL. But these responsibilities have been packaged up and shipped to their new home — software engineering under the flagship tole, the Machine Learning Engineer."
The 5 Most Critical Insights You'll Gain in Your First 5 Years as a Data Scientist (Towards Data Science)
This article provides some excellent insights and potential development topics for both data science individuals and teams. The author covers:
Automating some of your work
Better code documentation
Coding best practices
Being a better storyteller
The importance of simplicity
The Trust Problem That Slows Digital Transformation (MIT Sloan Review)
The adoption of new tools and practices will always bring about friction within the company.
This article explains how you can use some of that friction to build relationships between IT and executives that will lead to a quicker and more efficient digital transformation.
4 Principles to Guide Data Team Leaders (Towards Data Science)
Fellow data leader, Mark Derdzinski created a list of the four most valuable principles for a data leader to have and how to employ them in your teams.
He covers how to entrust, empower, equip, and encourage your team better, and provides real word examples of data teams that are structured around these tenants.
Featured Articles on Analytics Uses and Case Studies
Who is Liable When AI Kills (Scientific American)
This Harvard Business Review article covers how newfound efficiencies from supply chain AI, such as utilizing shared warehouse and shipping spaces with other organizations, have created the need for some competing companies to form novel collaborative relationships.
Why the Rise of Precision Agriculture Exposes our Food Systems to New Threats (The Conversation)
The transition to technology-heavy, data-driven "precision agriculture" brings an entirely new threat to food ecosystems - hacking. This article discusses how organizations and people are handling this new opportunity for exploitation.
AI-Based Innovations at Mayo Clinic (MIT Sloan Review)
This article focuses on Mayo Clinic's shift and adoption of AI-based tools and innovation. The organization has been a shining example of the improvements that AI can bring to a healthcare institution. The authors, Tom Davenport and Randy Bean, interviewed the leader of Mayo Clinic's AI initiatives, Bhavik Patel, and specifically uncovered how Patel has expedited model development and commercialization.
Featured Articles on AI
IBM Global AI Adoption Index 2022 (IBM)
IBM recently released its annual AI poll. In it, you can find some important takeaways about how AI is being utilized today and how companies will take advantage of the technology in the future.
Some of the key takeaways from the report include:
Companies will increasingly focus on building a holistic data management strategy
Automation and data security will drive faster time to value
Companies will harness climate data to achieve sustainability goals
AI Simplified: Data as a Service and 9 Essential Best Practices (Towards AI)
This article walks through the benefits of data as a service as well as use cases, best practices, and challenges.
Some of the benefits discussed are:
It can provide more accurate and up-to-date information
By decoupling storage from computing, data is able to be updated in real-time
It can be less expensive
Best Machine Learning Platforms 2022 (eWeek)
This expansive article showcases 10 of the most popular dedicated machine learning platforms, explains their use cases and benefits, compares vendors, and details how to choose the right platform for your business
What it Takes to Build Enterprise-Grade AI Applications (Towards Data Science)
In much of the same way that the development of analytics was framed as a revolution in business, AI is currently being treated the same way. Many people tout that companies that do not adopt and develop AI will fall behind competitively. Your organization needs to understand what it takes to build enterprise-grade AI tools in order to stay in competition with the largest companies in your industry.
This article covers the intricacies of what it takes to develop a large-scale AI application from what makes enterprise AI applications unique to walking through a data-mining framework.
Find the Right Pace for Your AI Rollout (Harvard Business Review)
"Implementing AI can introduce disruptive change and disfranchise staff and employees. When members are reluctant to adopt new technology, they might hesitate to use it, push back against its deployment, or use it in a limited capacity — which affects the benefits an organization gains from using it in the first place."
This article discusses how to avoid a messy AI rollout by proposing a three-step approach:
Assess the impact of an AI solution
Identify barriers to adoption
Identify the appropriate pace