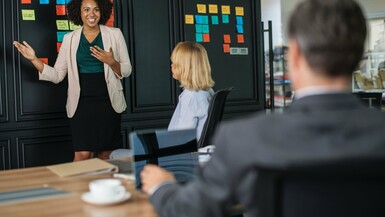 As organizations go through the process of establishing its organization structure for an Analytics function, it is imperative to start the design and launch of a new analytics organization with a basic blueprint to ensure that all of the roles, skills, and capabilities are in place from the beginning. It is this blueprint that we will review from top to bottom so that as you serve your organization as a decision-maker or key stakeholder you will be well-equipped as an architect or influencer to make certain that the right structures to fit your company's needs can be put into place from the beginning.
For leaders with current Analytics capabilities in place, these organization design principles can be leveraged to address any gaps that you may be trying to address.
This blog will be broken into three installments.
Understanding the Organizational Blueprint for Analytics Functions
The organizational blueprint is comprised of four key elements:
Leadership & Governance Structure with an associated RACI [ Responsible / Accountable / Contributor / Informed ]
Scope of Services Charter
Teams
Roles
Leadership & Governance Structure
The "Roof" of the Analytics function that we are constructing is comprised of a well-designed leadership and governance structure with clear operating guidelines in place. The operating guidelines can be driven and managed on the basis of a RACI deliverable that outlines the key players associated with the Analytics function, including:
Internal Stakeholders
External Stakeholders
Business Partners
Organizational Team Members Leaders / Key Executives
Supporting Operational Teams 1
The RACI framework ensures that all involved teams and stakeholders have a clear view of ownership and guidelines for who does what.
Scope of Services Charter
Creating a Scope of Services Charter is critical to the ability of the Analytics function to communicate with its key stakeholders across the organization as to what it designs, builds, deploys, and maintains when it comes to analytics capabilities.
Note that the principles of this Analytics Operating Model assumes that general data warehouse and Business Intelligence capabilities for general reporting and operational reporting for the transactional systems is not included and should be treated as separate functions not integrated with Analytics.
The services provided by an Analytics function should include:
Identification of new business processes able to realize value from analytics capabilities
Defining detailed functional designs for analytic models and supporting data structures
Defining detailed technical designs for analytic models and supporting data sources
Assessing the volume, velocity and variety of an analytic subject area
Building the analytic models and the data staging area to support the incoming data sources
Providing training and education for business analysts throughout the organization on the types of analytic models and data sets available
Testing and deploying new analytic models into production
Sustaining current analytic models in production by refreshing the models to fit changes in business processes and / or underlying data models and retiring analytic models that become obsolete
Teams
The "Walls and Doors" of the Analytics Function is comprised of the Teams and Team Structure. The number and type of teams established within your Analytics function should include the following:
Analytics Development
Technical Architecture Team
Business Architecture / Functional Team
Change Management Team
The exact naming and detailed scope of responsibility per team may vary slightly from organization to organization. Any variations can certainly be explained depending on the breadth and complexity of the Analytics capabilities being delivered, but the fundamental work breakdown structure should be about the same.
One of the most widely adopted frameworks for managing analytics talent was outlined in the February 2010 book by Thomas H. Davenport, Jeanne G. Harris and Robert Morison titled "Analytics at Work: Smarter Decisions Better Results".
Furthermore, in the article " How to Organize Your Analytical Talent " by Jeanne G. Harris; Elizabeth Craig; and Henry Egan, the authors outline how the five types of organizational structures impact level of employee engagement and share very interesting perspective based on interview of business executives and analysts.
Roles - Analytics Development
Analytics Development is comprised of resources dedicated to overseeing all of the analytics technical environments and producing the end product of Analytic Models for the companies' major business processes, including:
Data Management;
Data Integration with source systems;
Analytic model design, build, and test; and
Business Intelligence reports and/or Balanced Scorecards receiving data from the analytic models or tools.
The team or organization provides support generally across all lines of business or corporate functions. In the case of an organization with a decentralized analytics function, each corporate function also has data scientists and business analysts embedded within their organizations dedicated to producing analysis specific to their business processes. However, those resources almost always have a dotted line relationship and accountability to the central Analytics function.
The reason for the connection between analytics functions embedded within the business and the central Analytics function is ensure that first, the guidelines and protocol outlined by governing body for analytics are being met; and second, the vision and roadmap set out by the senior executive sponsors is fully adopted throughout organization.
The organizational chart that is manifested for Analytics function or department can vary widely across organizations and types of industries. In order to illustrate some of the basic principles in organizational design, the following charts are focused on no specific industry and include one for a Centralized Analytics Capability and one for a Decentralized Analytics Capability.
A Centralized Analytics Capability is defined as an organization that chooses to place all of its analytics talent into one central organization or functional team is referred to as a centralized framework. Centralized can take the form of one of the following models:
Analytics Delivery Organization – an organization aligned to Chief Executive most commonly referred to as the Chief Analytics Officer ( CAO )
Analytics Functional Team – a team within a larger organization such as Finance or IT that is structured to support the entire business, but has oversight by the department that relies most heavily on its expertise in the case of Finance or can be strategically placed within IT because of the heavy technology-dependent nature of the work
Analytic Center of Excellence – an organization that resides as part of a larger Center of Excellence" capability within a business; each center organized by functional specialty area (such as Analytics, ERP, CRM, etc.)
Analytics Shared Services / Consulting Organization – an internal organization for housing all analytics talent that can be leveraged by corporate functions, departments and lines of businesses throughout the business; led by a chief executive such as the COO, CIO or CFO.
A Decentralized Analytics Capability describes an organization that chooses to place its analytics talent in departments and corporate functions throughout its business with those individuals reporting directly to executives in the areas where they reside; no central chief executive oversees the analytics capabilities. Therefore, no org chart can represent the analytics delivery function.
The proposed organizational charts include all of the necessary analytics functions; Analytics Development; Technical Architecture; Functional Analysts, and Change Management.
Before outlining the proposed organizational designs for an Analytics function, it is worth taking a brief look at an article published by Robert L. Grossman and Kevin P. Siegel of the Journal of Organization Design; the article being titled "Organizational Models for Big Data and Analytics." In Grossman and Siegel's article, they rightly tackle the central business issue relative to analytics organizational design – no one definitive best practices solution yet exists to define the perfect analytics organization:
"There is little debate these days about the importance of big data and analytics in supporting the strategic goals of an organization (Davenport, 2006; Manyika, et al., 2011), but there is as yet no consensus about how best to organize analytics efforts within the organization and what core analytics processes the organization must support." 2 I highly recommend a complete reading of Grossman and Siegel's article to provide a complete, up-to-date perspective on the challenges, issues and debate at hand. The framework that they present is expressed as "Our organizational framework seeks to integrate analytics, business knowledge, and information technology…"
I fully support the scope of this framework as complete and believe that to effectively organize an analytics function that the all of roles or jobs required to run a fully-integrated set of analytics capabilities must be identified and treated as a cohesive group, governed under one structure ─ Analytics, Business Knowledge, and Information Technology ─ even though those functions and skills can be and often do resides throughout various parts of the organization.
An organization may have an IT function with big data architects assigned under its headcount and a business function with data scientists assigned under its headcount, but unless one executive sponsor has accountability for the performance and day-to-day activities of all of those individuals, the ability to effectively deliver actionable, data-driven insights will never be fully realized within an organization.
This perspective certainly is grounded in the concept of a chief analytics officer having an equal seat at the executive table and direct accountability to the chief executive officer. This idea lends itself to a retrospective look at the time when the IT function was buried under operations or finance with no chief-level officer governing its activities. It is a valid parallel between the IT function of the 1990s and early 2000s and its level of maturity and the analytics function of today. In the second installment of this blog, I will discuss the centralized and decentralized analytics operating models in more detail including sample org charts and discussion around the interdependencies and managing work across organizational lines.
---
Supporting operational teams include functions or capabilities outside of the Analytics function, but that are Finance, HR, Legal, IT and PMO (Program Management Offices).