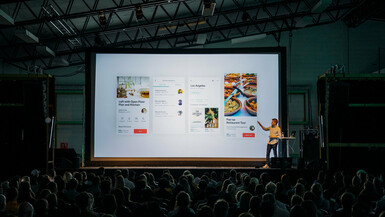 While doing some research recently on companies that are incorporating big data into their products and key processes, I noticed that that a disproportionate number seem to be more than a century old. What's going on with this phenomenon? Here are some examples, ordered by company age.
Procter & Gamble, all of 176 years old, has transformed its decision-making process with its "Business Suite" executive decision rooms and its "Decision Cockpits" pushed out to 50,000 desktops. Both decision environments include real-time social media sentiment analysis on each P&G brand as part of its "Consumer Pulse" dashboard. Former CEO Bob McDonald was a strong advocate for big data and analytics, but his predecessor and successor, A.G. Lafley, is also very supportive. Lafley announced last month that the company spends about 35% of its marketing budget on digital marketing—well above most of its competitors.
Schneider Electric, a 170 year old company based in France, was originally a manufacturer of iron, steel, and armaments. Today its primary focus is energy management based on big data, including energy optimization, smart grid management, and building automation. The company has acquired or developed a variety of software and data ventures in Silicon Valley and Boston, and in France.
At Bosch Group, a 127 year old company based in Germany, the company has embarked upon a series of initiatives across business units that make use of data and analytics to provide new and "intelligent" customer offerings. They include intelligent fleet management, intelligent vehicle charging infrastructures, intelligent energy management, intelligent security video analysis, and many more. To identify and develop these innovative services, Bosch has created a Software Innovations group that is heavily focused on big data, analytics, and the "Internet of Things."
One of the most dramatic conversions to data and analytics offerings is found at GE, a company that's more than 120 years old. GE's manufacturing businesses are increasingly becoming providers of asset and operations optimization services. With sensors streaming data from turbines, locomotives, jet engines, and medical imaging devices, GE can determine the most efficient and effective service intervals for those machines using data and analytics. To assemble and develop the skills to do this sort of work, GE invested more than $2 billion in a new software and analytics center in the San Francisco Bay area. GE is even selling technologies for other industrial companies to use in managing big data and analytics, and has marketing campaigns involving such big data concepts as "Datalandia" and "Predictivity."
United Parcel Service (UPS) is a mere 107 years old, but it is one of the best examples around of pushing analytics out to front-line processes—delivery routing in particular. The company is no stranger to big data, having begun to capture and track a variety of package movements and transactions as early as the 1980s. The most recent source of big data at UPS, however, comes from telematics sensors in over 46,000 vehicles. The data from UPS package cars (trucks), for example, includes their speed, direction, braking, and drive train performance. The data is not only used to monitor daily performance, but to drive a major redesign of UPS drivers' route structures. This initiative, called ORION (On-Road Integrated Optimization and Navigation), is arguably the world's largest operations research project. It also relies heavily on online map data and optimization algorithms, and will eventually reconfigure a driver's pickups and drop-offs in real time.
Why are all these oldsters moving with such agility on big data? My guess is that their embrace of new possibilities and competitive resources is one reason they have been around so long. Another hypothesis is that each of these companies have concluded that their past may have been decidedly analog, but their future is digital. They will continue to make and move stuff, but everything they make will have a sensor in it that trails data, and every move will be accompanied by data that can be recorded and analyzed. They'll not only sell products and services, but advice on how best to use them based on data.
Silicon Valley companies may have pioneered the use of big data, but it's these nimble giants that are taking things to the next level. They're showing that big data can be a driver not just of online business, but of every kind of business.