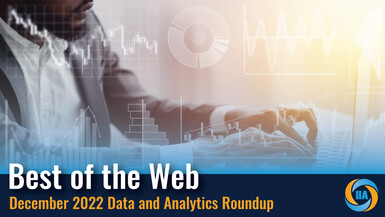 Read below for a roundup of interesting sites, resources, and articles from around the web, curated and contextualized by unbiased analytics experts at IIA. Highlights include articles on the disillusionment of "self-service", a return to data modeling, a massive roadblock for AI, and an article about the things data engineers can learn from software engineers. Follow us on Twitter and LinkedIn to receive daily updates on IIA content and curated content as it becomes available.
"Article of the Week" from IIA's Normal Distribution
Each week, IIA's Normal Distribution email (sent to anyone that has filled out a form on our website) features timely and relevant third-party articles. Here are the articles highlighted in the "Article of the Week" from the December Normal Distribution emails.
Is "Self-Service" Data's Biggest Lie (Towards Data Science)
Self-service data has been advertised as a way to make data analysts' jobs easier, but is it just a lie? Drawing on the experience of a data analyst, the author explores the realities of self-service data and its impact on data professionals.
The Lost Art of Data Modeling (Hacking Analytics)
"Shaping data by developing an understanding of the underlying data and the business process going along with it doesn't seem nearly as important these days as the ability to move data around."

This article explains in-depth why data modeling seems to have been left behind and a compelling argument for why it's still extremely relevant.
What Machines Can't Do (Yet) in Real Work Settings (MIT Sloan Review)
When we look at the myriad uses for AI currently, we see a broad range of applications that augment human work instead of completely automating it. Many experts, including the authors of this article Tom Davenport and Steven Miller, believe that this scenario is expected to continue.

This article discusses why AI has hit a roadblock of sorts and what needs to happen in order for us to overcome it.
What Data Engineers Can Learn from Software Engineers (Towards Data Science)
The author of this article draws on their experience transitioning from a software engineer to a data engineer to explain what the two closely linked professions can learn from each other. In the article, they discuss why software engineering code-based best practices ought to be widely adopted in the data engineering sphere and a myriad of other lessons the two professions can learn from one another.
Featured Articles on Analytics Strategy
Data as a Product vs. Data as a Service (Read Technically)
This article dives into the topics of Data as a Service (DaaS) vs. Data as a Product (DaaP), what the differences between the two are, and how to best leverage them both. The authors argue that over time, a business should transition from almost entirely DaaP to DaaS. Finally, the article explains how you can hire the best talent to execute a DaaS strategy.

7 Tips to Make Your Data Analysis More Robust (Towards Data Science)
Staying up-to-date on the best practices and newest technologies is a major part of working in the D&A space. This article provides 7 tips on keeping your analysis sharp and ways to stay up-to-date with the ever-changing industry.
Featured Articles on Analytics Leadership and Talent
Can Design Thinking Succeed in Your Organization? (MIT Sloan Review)
In this article, MIT Sloan Review examines the key challenges of making design thinking successful and provides tips for successfully implementing the practice, specifically along the following 8 dimensions: purpose, collaboration, work style, thought process, knowledge generation, constraints, failure, and workflow.
Detailed Dashboard Design Guidelines Used by Professionals (Analytic Girl)
This article covers clear and in-depth guidelines for creating and improving dashboards. The author details everything from overall layout to a master cheat sheet on selecting the correct chart.
Design Thinking Improves Your Data Science (Towards Data Science)
We're all aware of the rising popularity of design thinking in data science, but how exactly does it change the typical problem-solving approach for a data scientist, and why is it so popular? This article delves into how design thinking improves data science and provides 5 steps to ensure a successful design thinking process.
Featured Articles on AI
Six Data Functions You Ought to Automate (Towards Data Science)
Retailers who have been eyeing AI implementation have the extra push of a labor crunch to incorporate the tools ahead of the holiday season. This list showcases 7 unique AI startups aiding retailers.

What Will AI do to Branding? (Fast Company)
Co-founder and CTO of the IDE platform Kili Technology writes this article on why organizations need to keep faith in their AI projects even if they are seeing a high level of failure.