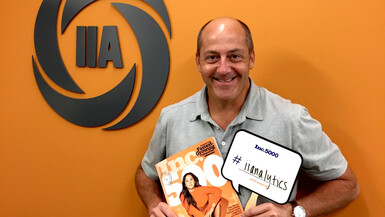 We at IIA are so proud to be listed for the first time on Inc. Magazine's Annual List of America's Fastest-Growing Private Companies. This honor comes thanks to the efforts of the entire IIA team and the leadership of CEO and Co-Founder Jack Phillips. The list represents the most successful companies within America's independent small and midsize businesses. Over the last three years, IIA has grown sales revenue by 73% and significantly grown our client base.
"We have been privileged to work our great clients who are making huge strides within analytics in their industries and their organizations," said Phillips. "We are excited about all that is to come with IIA and within the industry."
We want to thank our incredible clients, Expert Network and staff for helping us make this list. The world of analytics has evolved and grown over the last three years and IIA has been able to help shape and define that transformation. Through thought leadership, research and working with leaders at the forefront of innovation, we continuously strive to make sure our clients have the resources to drive analytics excellence within their organizations. IIA is on a mission to help clients maximize the power of analytics.
ABOUT IIA
The International Institute for Analytics (IIA) is an independent research and advisory firm for organizations committed to accelerating their business through the power of analytics. Co-founded by Tom Davenport and CEO Jack Phillips, IIA works across a breadth of industries to uncover actionable insights from its global network of analytics practitioners, industry experts and faculty. IIA's research clients gain access to on-demand consulting, an extensive research library, executive roundtables, and expert network of practitioners. IIA also provides analytics assessments and training services designed to optimize performance in the new data economy. For more information about IIA, its services and how you can become a member visit http://www.iianalytics.com