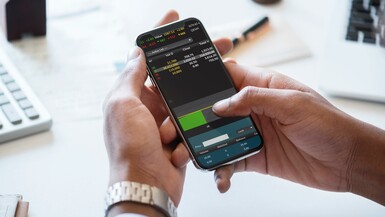 Everyone seems to agree that analytics, AI and Big Data are changing the world and that cloud computing is accelerating the adoption of these technologies. Combined, they are disrupting traditional business models and creating new market opportunities. If you are an analytics leader, data scientist, ML engineer, software engineer or other related role you see first-hand the power of analytics to unlocked hidden value in existing businesses or to enable completely new businesses. Are you using your first-hand knowledge of analytics to shape your investment strategy?
The FANG (Facebook, Amazon, Netflix, Google) stocks plus Microsoft may be the most obvious way to invest in this opportunity, but today these stocks have large market capitalizations driven by high performance and even higher expectations. The big gains in these stocks may have already occurred.
Creating a portfolio of stocks to invest in these trends is actually quite challenging. Selecting the next generation of winners is difficult. Hundreds of companies in the US are pursuing analytics and AI related strategies. Analytics and AI are also international, and the next generation of winners might not come from the US. For example, Japan is a hub for robotics, China is a center for AI and FinTech innovation and Israel is a center for security and autonomous vehicles. In total, there are thousands of publicly traded companies to select from.
A new generation of thematic exchange traded funds (ETFs) from iShares, Global X and others looks to make targeted investments in AI, Big Data and cloud computing easier. There are also ETFs that cover specific application areas like finance services (FinTech), Internet of Things and autonomous vehicles. Reflecting the hype surrounding these technologies, many of these ETFs are less than a year old and have a limited track record. Investors should proceed with caution and recognize that dramatic growth often comes with dramatic volatility. Luckily, many of these funds can be purchased commission free at discount brokerages, making it easy to gradually build positions over time.
Exploring the holdings of these ETFs can provide interesting insight into how these technologies are transforming industries across the globe. Most of these ETFs have the majority of their holdings in US-based companies, but other prominent countries include Japan, Germany, Switzerland and China (see table 1).
Not surprisingly, Amazon and Alphabet (Google) are the most prevalent top holdings. They are the leading providers of analytics and AI cloud services while also running business models that heavily leverage the same technologies. Alphabet is investing heavily in autonomous vehicles through its Waymo subsidiary. Other common Top 10 holdings include Cisco Systems, Qualcomm, NVIDIA (GPUs), AreoEnvironment (Drones), iRobot (robots), Intuitive Surgical (surgery robots), Keyence (sensors) and Microsoft (see table 2).
Here is a summary of 13 ETFs looking to capitalize on analytics, AI, Big Data or cloud computing. The following sections summarize their investment focus, performance, international exposure and their top 10 holdings. Many of these ETFs are new and have a limited track record. The 1- and 3-year returns are provided where available below. The S&P 500 and NASDAQ 100 ETFs are provided for comparison.
ANALYTICS AND BIG DATA ETFS
AI, ROBOTICS AND AUTOMATION
CLOUD COMPUTING
First Trust DJ Internet Index Fund (FDN) - This is one of the oldest ETFs and has a 5-year return of 24.82% and a 10-year return of 19.94%. It seeks to track the performance of the Dow Jones Internet Composite Index (link). It had 42 individual equity holdings as of August 17th, 2018.

First Trust ISE Cloud Computing Index (SKYY) – SKYY is ETF that seeks to track the ISE Cloud Computing Index (link). It is one of the oldest ETFs on this list and has a 5-year return of 11.79%. It had 30 individual equity holdings as of August 17th, 2018.
RETURNS AND INTERNATIONAL HOLDINGS
The following table illustrates the 1-year return, 3-year return and percentage of international holdings as of August 17th, 2018 for each ETF. An S&P 500 and NASDAQ 100 ETF have been provided for comparison purposes.
TOP 10 HOLDINGS
The following table captures number of individual holdings and the top 10 holdings for each ETF as of August 17th, 2018.
Disclaimer: no information on this site constitutes financial advice and should not take the place of consulting with a certified financial planner and tax, legal, or other financial advisors